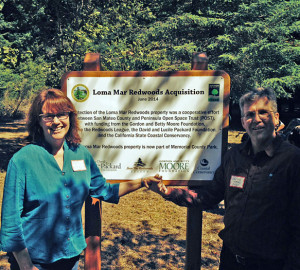 Last week, Save the Redwoods League Project Manager Catherine Elliot and I escaped our very urban office and headed south to Loma Mar, a small town nestled in the redwoods a few miles inland from Pescadero, less than an hour's drive from Silicon Valley and its millions of people. There we joined friends and colleagues from San Mateo County Parks, the San Mateo Office of Education, the Peninsula Open Space Trust, the State Coastal Conservancy and others to dedicate Loma Mar Redwoods as the latest addition to Memorial Park, which will celebrate its 90th anniversary this year.
Loma Mar Redwoods is a magical 174-acre forest of big redwoods that is a stand-alone conservation success story. Despite having been clear-cut in the early twentieth century and commercially logged as recently as the 1980s, Loma Mar is a mature second-growth forest — it will soon be tomorrow's old-growth, and it already provides a critical buffer for Memorial Park's old-growth groves and the endangered marbled murrelets that roost in the park.
But, there's more to the story. Years ago, the San Mateo County Office of Education purchased Loma Mar with voter-approved bond funding restricted to outdoor education, and the Office of Education intended to build an education center on the property. Unfortunately, a shortage of available water, among other constraints, prevented construction. Now, thanks to support from League members, POST, San Mateo County and the Coastal Conservancy, San Mateo County Parks was able to purchase Loma Mar and the proceeds of sale are now available to fulfill the voters' commitment to outdoor education.
But wait, there's even more! Loma Mar Redwoods separated the residents of Loma Mar town from Memorial Park, and with its addition to the Park, residents will soon have direct park access via hiking and biking trails.
So, at last week's dedication, we celebrated a triple bottomline: Protection that keeps Loma Mar Redwoods on the path to become tomorrow's old growth; money came "outoftheground" to support outdoor education for the tomorrow's conservation leaders; and Memorial Park is in Loma Mar's backyard, tomorrow and forever.
Learn more about the stunning Loma Mar Redwoods and share its story with your friends.