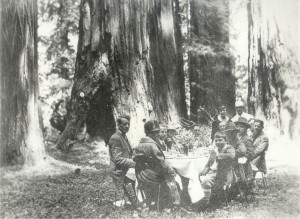 In 2014, California State Parks (CSP) will be 150 years old. The park system has come a long way in that time; from the first park at Yosemite to the 280 parks that currently make our system the largest in the country, with nearly 70 million visitors every year. Our state parks are now an integral part of our identity, so it is important to remember how our treasured natural heritage came to be.
On June 30, 1864, President Abraham Lincoln signed the Yosemite Grant Act, setting aside the Yosemite Valley and the Mariposa Big Tree Grove as California's first state park. The significance of that act cannot be underestimated—never before had land been set aside purely for the preservation and public enjoyment of its natural values.
This was a time when nature was primarily valued as a commodity—as a source of raw material, a means to an end. Yet a movement began to take hold, as visionaries like Lincoln and the men who introduced the Yosemite Grant bill recognized the inspirational significance of nature, starting with the giant sequoias on this first state park (now national park) land. They saw that this special place and its venerable inhabitants could be lost if nothing were done to protect them, and that loss would be unbearable. They saw this, and they took action.
Thanks to this vision and willingness to act—the same which motivated the founders of Save the Redwoods League in 1917—those spectacular sequoias are still standing, and other ancient redwood groves were saved for the inspiration of us all. The movement has grown and evolved since then, and is now more important than ever, as we become increasingly aware of how critical redwood forests are to our future.
Fortunately, just as the state parks system has grown, so has the legacy of its founders. We all carry on that legacy today, in our passion for conservation and our willingness to take action to protect what is irreplaceable.
Since helping establish the state park system that we know today in 1927, the League has proudly been a part of the rich heritage of California and California State Parks. Help us carry on the legacy of the past as we look to the future. Support California state parks by donating to the League's parks program today.