The midterm election on November 6, 2018, held mixed results for conservation and climate change priorities, and they will have lasting impacts on our ability to protect, restore, and connect people to California's redwoods.
While many climate change-related ballot measures in states across the country failed, many races — from Congressional seats to statehouses and governorships — were won, in part at least, on the candidates' commitment to address climate change and conservation issues. With executive powers, governors can set state priorities on clean energy and land conservation, and state governments can determine how climate change goals are met and how federal environmental regulations are enforced.
There are now 42 brand new conservation-minded representatives elected to Congress; 10 new pro-environmental governors elected, and many more elected to statehouse seats across the country. Furthermore, as an ongoing demonstration that public funding for land conservation remains a priority at the local level, dozens of communities across the country — from Tucson, Arizona to Beaufort County, South Carolina and from Sarasota, Florida to Missoula, Montana — all voted for bond measures to support parks and land conservation.
With Democrats gaining control of the House of Representatives, there will be a shift in leadership on key committees like the House Natural Resources Committee. These committees play a central role in deciding the fate of critical programs like the Land and Water Conservation Fund, as well as for important regulatory laws like the Endangered Species Act.
Results aside, it was exciting to see historic voter turnout in this midterm election, with estimates approaching 113 million voters in action across the country. That is nearly 49% of all eligible voters. Compared to low voter turnout in the last midterm election in 2014, which was at just over 36 percent, this was the most voter participation we've seen in decades. Voter turnout soared among voters aged 18 to 29, with that group's participation jumping 188% since 2014.
---
California's Election Results and What They Mean for Redwoods
Save the Redwoods League endorsed or took a position on four measures on the California ballot that affected our redwood forests. These important statewide and regional conservation measures will help us protect and restore our redwood forests, and connect people to California's redwood parks.

Local Measures:
Thank you, residents of Alameda and Contra Costa Counties, for passing Measure FF!
With Measure FF approved by 85% of voters, far surpassing the required two-thirds majority, this existing only $1 per month parcel tax for single-family homes ($.69 per month for multi-family units) will remain in place, helping the East Bay Regional Park District steward and protect 121,397 acres, 73 parks, and over 1,250 miles of trails.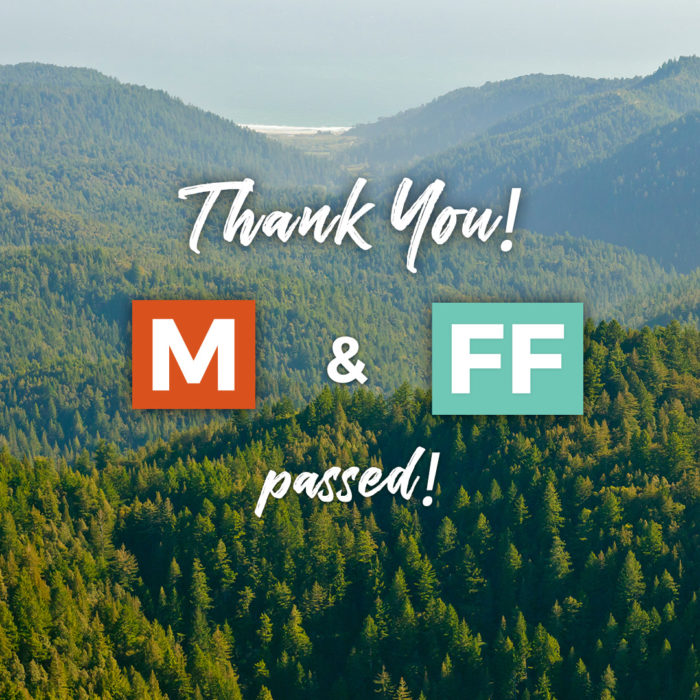 Measure FF prioritizes wildfire protection and healthy forests, as well as park access and trail projects, and efforts to protect shorelines, creeks, and natural habitat from climate change impacts. Funding from Measure FF will specifically go towards supporting the League's education and interpretation programs, as well as sustainable forest management projects in partnership with the League that will keep our East Bay redwoods resilient in the face of a changing climate.
Thank you, residents of Sonoma County, for passing Measure M!
With Measure M passed by 70% of voters, surpassing the required two-thirds vote, the $11.5 million in annual funding provided will support Sonoma County's long-term park maintenance needs, help protect natural resources, assist in recovery from wildfires, reduce fire risks, provide health and recreation programs, and open new parks and trails. Funds from Measure M would support the work of Save the Redwoods League as we protect and restore redwood forests in Sonoma County and build trails and park infrastructure to welcome the visiting public to the redwoods. Also, with Measure M approved, up to $42 million in Prop 68 local funds will be made accessible for park projects in the county, including projects to preserve Sonoma's mighty redwoods!

Statewide:
Prop 3, the California Water Bond, Fails
Prop 3 was defeated, securing only 47% of the vote statewide. The nearly $9 billion Water Bond would have invested in the state's water infrastructure, funding projects to ensure safe drinking water, Sustainable Groundwater Management (SGMA) implementation, infrastructure repair, watershed restoration, and wildlife habitat protection. The Water Bond would have advanced comprehensive investments in land conservation and natural resource protection in California, providing nearly $4 billion in funding for environmental protection and restoration, including specific support for redwood preservation and restoration in both the coast redwood and giant sequoia ecosystems. Save the Redwoods League will continue our efforts to develop new, sustainable funding sources to support our work.
Prop 6, the Gas Tax Repeal, Fails
California voters confirmed that we need the gas tax, which is good for redwoods!
In 2017, Governor Brown signed SB 1, the Transportation Funding Act, into law. SB 1 increased prices at the pump by 12 cents per gallon, as well as vehicle registration fees, based on the value of your car. Prop 6 would have repealed SB 1, halting more than 6,500 transportation projects across the state (external link) that are already underway using SB 1 dollars, including non-motorized greenway projects to help fight climate change.
California State Parks has received a portion of vehicle registration and off-highway vehicle (OHV) fee revenues to support department operations since before the passage of SB 1 in 2017. The idea being that transportation infrastructure throughout the state negatively impacts the natural environment, so some of the related revenue from that system should go towards protecting and improving our publicly accessible natural lands.
With SB 1 intact, this funding will continue to flow to State Parks, supporting the creation of new jobs to help advance park stewardship and improvement projects across the state, including our partnership landscape-scale restoration project with the National Park Service and State Parks, called Redwoods Rising.
---
While the election results are an assortment of positive and disappointing outcomes as related to conservation and climate change priorities, Save the Redwoods League is taking our cues from the redwoods we protect and steward. We remain resilient and stand tall for our mission and values, which are based on the principles of conservation biology, the importance of stewardship, and the imperative of land conservation.
Thank you for participating in our democracy, and for taking a #Stand4Redwoods on Election Day!
Learn more about the current policy and legislation issues we're tracking, and sign-up to receive monthly email updates.