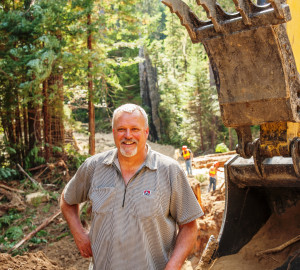 You can't train people to do what Gordy Stephens does. Or rather, you can train them – provided you can spare more than 20 years for the teaching process and your trainees demonstrate an aptitude for heavy equipment that borders on the preternatural.
As a logger for the now defunct Pacific Lumber Company, Stephens built logging roads throughout the North Coast's redwood forest.  Now with a grant from Save the Redwoods League, he's decommissioning some of those same roads at Headwaters Forest Reserve, using his giant excavator with the exactitude of a surgeon wielding a scalpel.
"You do this long enough, and you don't think of that bucket as a component of the excavator," says Stephens. "In fact, you're not really thinking at all. It's virtually all instinct. The bucket is like an extension of your hand, the teeth on the bucket are like your fingers. When you want something, you just reach out and get it. When you're digging around, you instantly know what you touch by its feel. You know intuitively which angle to take, which approach to use."
It is a pleasure to watch any gifted craftsperson work, and Stephens is no exception.  He uncovers the stumps of giant trees logged long ago, gently brushing and chiseling the soil from them with the edge of his bucket. Every 2.5 cubic yard bucket load of dirt is delivered into the dump truck bed with precision; there is no spillage. He adroitly grades the excavated site back to the contours of the mountainside. It doesn't take an observer long to realize there are very few people on the planet who can do this work with such a high degree of competency.
Stephens grew up in southern Humboldt County, the scion of a multi-generational clan of loggers and millworkers.
"I went to Humboldt State, but one summer I went to work in the woods and never came out," he laughs. "I enjoyed logging, but I'd never go back to it. This is the most satisfying work I've ever done. You see your progress every day, and you know what you're doing will benefit the forest and the community."
See a video of Stephens restoring Headwaters Forest Reserve, and learn more about the League's work there.