The San Francisco skyline floating in a sea of fog is a pretty striking view. But imagine a California coast once cloaked in 2.2 million acres of redwood forests. Now, amid high-rises, concrete and city lights, it's easy to forget – or never even know – the natural, staggering perfection of the world's tallest trees.
Fortunately, there are pockets in The City (as Bay Area residents know and love it) where locals and visitors can experience the redwoods, both virtually and tangibly. No need to even hop on any freeways or cross any bridges. ETA: less than an hour.
Montgomery Street BART Station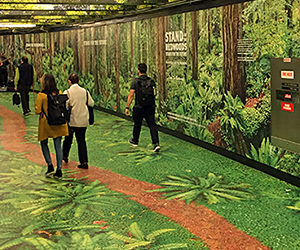 A commute through the redwoods is the dream, no? At least it is for Save the Redwoods League, so they made it happen. They've transformed a 180-foot tunnel in the Montgomery Street BART station (external link) into a photographic redwood forest, using images by photographers Max Forster, Paolo Vescia, Jim Campbell-Spickler and Will Goldenberg. From now until October 15, coast redwoods line the tunnel's walls and tower overhead on the ceiling. Redwood sorrel blankets the "forest" floor, composed of a mosaic of 300 photos captured by Robert Van Pelt. The lush scene showcases 27 plant and animal species, including Pacific giant salamanders, tanoaks and peculiar
inside-out flowers.
Location: Montgomery Street BART Station, Sansome and Sutter St. entrance
Approx. One Sansome Street, San Francisco, CA 94104
---
Transamerica Redwood Park
In the heart of the Financial District, coast redwoods offer refuge between vertiginous glass-and-steel skyscrapers. Adjacent to the Transamerica Pyramid Tower, San Francisco's tallest building at the time of construction in 1972, this gated half-acre pocket park (external link) designed by Tom Galli is home to 50 redwoods transplanted from the Santa Cruz Mountains. Two of the League's own, former secretary John B. Dewitt and former president Newton B. Drury, were here for the groundbreaking in 1973 – one of many landmarks in their respective legacies.
Location: 600 Montgomery St, San Francisco, CA 94111
---
Hoover Redwood Grove in Golden Gate Park
Golden Gate Park is a veritable oasis in a bustling metropolis. Among its many hidden gems is the inconspicuous Hoover Redwood Grove (external link). It's unmarked but easily accessible along the south side of Martin Luther King Jr. Drive, just west of the park entrance on 20th Avenue and Lincoln Way. The coast redwoods surround a grassy picnic area, so pack a blanket and some snacks for a lazy afternoon well spent.
Location: 716-808 Martin Luther King Jr Dr, San Francisco, CA 94122
---
The California Academy of Sciences
Indoors types can get a feel for the drama of a redwood forest at the California Academy of Sciences' newly opened exhibit, Giants of Land and Sea (external link). An immersive video ascends the rich habitat of the tree canopies, and a fog room mimics the misty and mystical world existing only where the Pacific Ocean and coast redwoods meet. Save the Redwoods League contributed its century of knowledge of the forest's biodiversity and ecology to this expansive exhibit. Analyzed by the League's Redwoods and Climate Change Initiative scientist Allyson Carroll, a display of a 9-foot-wide trunk section from a fallen coast redwood illuminates the tree's 800-year life story.
Location: 55 Music Concourse Dr, San Francisco, CA 94118
---
San Francisco Botanical Garden
If feeling lost in the woods seems more appealing than getting lost in the streets downtown, a hundred-year-old Redwood Grove in the San Francisco Botanical Garden (external link) is an idyllic escape. Shaded by a dense canopy and comprising over 100 species of plants found in a typical redwood forest ecosystem – like huckleberry, sword ferns and magenta-hued flowering currant – this grove is one of the most serene spots in Golden Gate Park. It's so special, in fact, that the League celebrated its 90th anniversary here 10 years ago.
Location: 1199 9th Ave, San Francisco, CA 94122
---
Stand for the Redwoods Festival at Yerba Buena Gardens
To celebrate 100, it's time to go all out. On Sunday, October 14, the Stand for the Redwoods Festival at Yerba Buena Gardens is a perfect opportunity to commune with giants in this great city. Aside from a rollicking parade of dancing redwoods, the trees can be seen in the flesh at a grove adjacent to the Oche Wat Te Ou (Reflection) Garden, a tribute to the indigenous Ohlone tribe, by native artists Jaune Quick-to-See Smith and James Luna. The free festival will present live musical performances by spiritual hip-hop/folk artist Nahko (external link), funky blues/soul act Ron Artis II & The Truth (external link) featuring the Saeeda Wright Gospel Singers, soulful and virtuosic songstress Saeeda Wright (external link), and eclectic brass band Jazz Mafia's (external link) Heaviest Feather. Big trees. Big bash. Big smiles all around.
Location: 750 Howard St, San Francisco, CA 94103
---
Redwoods are hiding in plain sight in many neighborhoods in San Francisco. Let us know where you're spotting the redwoods in the comments below.
Venturing out of The City? Find a redwood park on ExploreRedwoods.org.