REDWOODS magazine: This article was created for our magazine that features redwoods news, breathtaking photos, answers to readers' questions, stories of how we are realizing our vision for our next century, and how you can help the forest. Tell us what you think about this issue of REDWOODS magazine for a chance to win a fun prize!
---
Free Second Saturdays program starts a family's tradition of enjoying redwood parks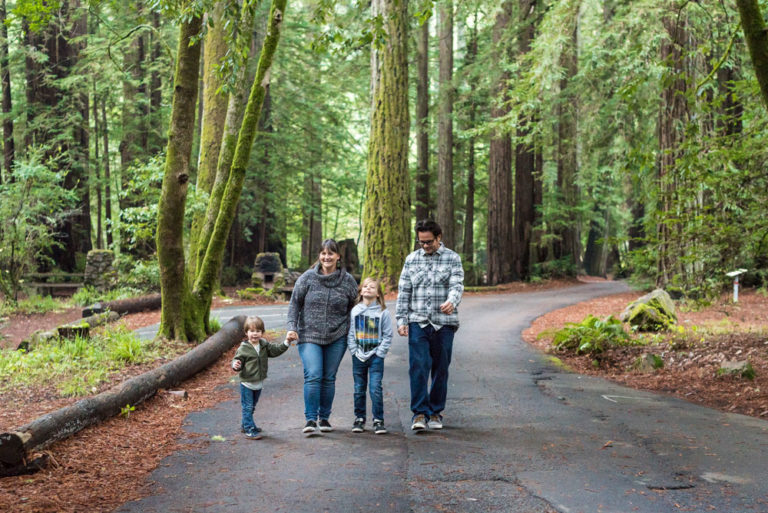 The redwood forests are among the Diaz family's favorite places. Jami, her husband Xavier, and their sons, Nolan, 8, and Hollis, 4, love to take trips from their San Jose home to decompress among the giant trees. So when they learned on Facebook about the League's 2018 Free Second Saturdays in redwood parks, they jumped at the chance to explore different forests.
The Free Second Saturdays program marked the League's Centennial in 2018, thanks to the generous support of Oracle and League members. With California State Parks, the program offered free day-use admission to 46 redwood state parks on the second Saturday of each month. In October, the League and 25 park agencies offered a special birthday edition of the program in 100 redwood parks, providing free day-use parking to those parks where there are usually parking fees.
The goal of the program was to draw thousands of new visitors to our parks, inspire a love of nature, and establish a strong conservation ethic across diverse generations and communities. More than 30,000 people participated, and 70 percent of them visited those parks for the first time.
Jami, who's studying energy and vibrational healing, and Xavier, who works for the City of San Jose Parks Division, used their free passes to discover Portola Redwoods, Henry Cowell Redwoods, and Samuel P. Taylor state parks, and return to Big Basin Redwoods, Wilder Ranch, and Pfeiffer Big Sur state parks.
"We find the redwood forests extremely grounding and nourishing," Jami said. "And we cherish this unstructured time in nature with our boys when they can run, jump, and simply lose themselves in their imaginations. I love the energy of these ancient trees. Free Second Saturdays provided my family a reason to commit to being among the redwoods in 2018. It's been so enjoyable, I'm pretty sure our visits are going to remain a tradition."