REDWOODS magazine: This article was created for our magazine that features redwoods news, breathtaking photos, answers to readers' questions, stories of how we are realizing our vision for our next century, and how you can help the forest. Tell us what you think about this issue of REDWOODS magazine for a chance to win a fun prize!
---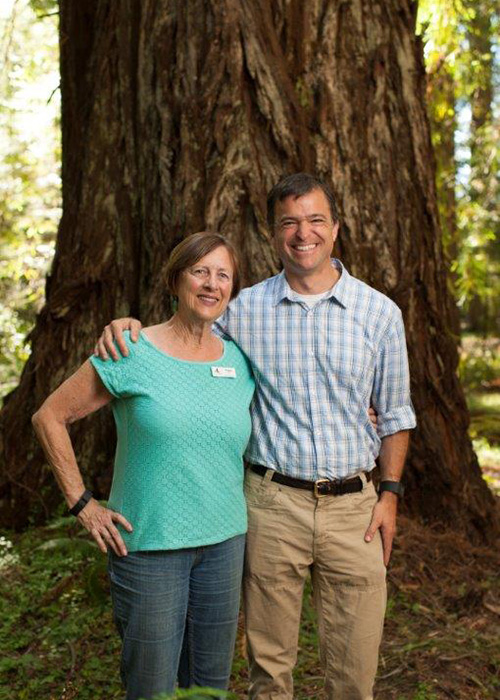 For many of us, taking in the majesty of one enormous redwood tree stirs the imagination. But standing in a forest of many ancient giants is an experience like no other, filled with the raw power and beauty of an entire ecosystem. It is with the power of many in mind that Save the Redwoods League set a bold goal in our Centennial year of 2018.
We asked 100 supporters to designate legacy gifts to the League. Their pledges, made through gifts in their wills, trusts, and retirement plans, are commitments to protect the forests beyond their lifetimes. They are promises to protect the formative redwoods experience for the next generation of visitors.
As added inspiration for their commitment, League Board member Peggy Light offered to pay forward $100,000 of her legacy gift to match each new pledge with an outright gift of $1,000.
The League is pleased to announce our success in exceeding our goal. By the end of 2018, 105 dedicated supporters made their commitments, securing their spots in our Redwood Legacy Circle, and creating a foundation for the next 100 years of redwood forest conservation. These supporters will forever be known as The Centennial 100.
"This achievement strikes a personal chord with me, as my own connection to the organization goes back to its beginnings," Peggy said. "My grandfather, A. E. Connick, was one of the founding members and a President of the League. His passion for preserving these magnificent giants had inspired my own dedication to Save the Redwoods. I am elated to know that we are now poised to continue this work for another century to come."
We are exceedingly grateful for Peggy's generous gift, which inspired so many to create a legacy gift of their own. Thank you.