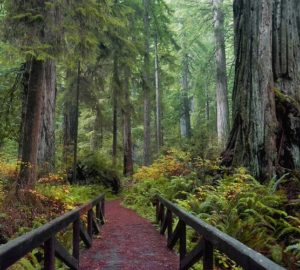 Towering ancient redwood forests, hillsides painted with orange and gold spring wildflowers, and landmarks that reveal the state's history and cultural heritage — these are the California treasures our state parks were designed to safeguard and manage for posterity. With 280 parks across 1.6 million acres, hosting more than 74 million visitors last fiscal year alone, California is one of the largest state park systems in the United States. But, the task of managing the system of parks that makes California such a spectacular place to live and visit is tremendous, particularly with reduced budgets, growing maintenance costs, and an increasing population.
In a focused and comprehensive effort to keep these world-class parks open and thriving, seasoned leaders from California State Parks, the Governor-initiated Parks Forward Commission, and outside entities, including Save the Redwoods League, formed a Transformation Team in 2015. Together, we collaborated over the last two years to implement the recommendations of the Parks Forward Commission and ensure the strongest possible future for the park system as a whole. The Team had four strategic goals, to protect and enhance natural and cultural resources; develop excellent management systems; maintain high-quality operations and public service; and create meaningful connections and relevance to people. Several League staff, including myself, were involved throughout the process, serving on the Transformation Advisory, Partnerships, and Natural Resources Advisory Committees.
As the Team's name implies, this work and the plan going forward for California State Parks is truly 'transformational.' Over the last two years, the Team helped plan for and implement 60 ambitious initiatives, from a new state-of-the-art reservation system (external link) — set to launch on August 1, 2017 — to increased protections and improvements for the parks statewide. While it's a massive undertaking, our parks, our redwoods, and our communities will benefit from these transformational projects. Here are just a few that affect our redwood parks.
A New Reservation System for Parks
On August 1, State Parks will launch a new reservation system, Reserve California (external link), for 110 parks. This modern and user-friendly site will have interactive maps with detailed views of the campgrounds and an intuitive process for reserving camping and lodging sites. Continuing into 2018, State Parks will add another 41 parks into the reservation system and features like the ability to view real-time reservation inventories. State Parks and the Transformation Team hope that this system will be easier to use, improving both the experience of all of the park visitors who plan their outings using the system as well as management by park staff.
A Collaborative Redwoods Restoration Project
California State Parks stewards natural resources found nowhere else in the world, including the vast majority of the old-growth redwood forests left on the planet. The health and diversity of the natural resources in the parks are of great importance for the Transformation Team, and to help amplify that focus, Save the Redwoods League, California State Parks, and the National Park Service are embarking on a collaborative restoration project to revitalize the forested landscape of Redwood National and State Parks. This work will draw upon the collective strength and experience of each organization to heal damaged parts of the forest, regain the structure and function of the old-growth redwood land, and improve visitor experience in the parks.
New Cabins in Park Campgrounds
A statewide visitor survey highlighted the interest and need for additional cabins throughout State Park campgrounds to provide additional sleeping accommodations when camping. Over the next few years, up to 750 cabins will be constructed at 51 parks. New cabins are already available at Jedediah Smith Redwoods State Park, Prairie Creek Redwoods State Park, and Big Sur. Site selections and cabin designs are also in process at Calaveras Big Trees State Park.
New Virtual Hikes – 3D Experiences for 110 Trails
To help people plan their activities, or explore the wonders of our parks virtually as they fantasize about future visits, State Parks partnered with Google Maps to walk the trails and develop interactive, 3D experiences along 110 trails using Google Trekker. These new virtual pathways allow everyone to access the parks throughout the system from any computer, tablet, or smartphone. Among the mapped trails are these redwood parks and places, Limekiln, the Fern Creek Trail, Steep Ravine Trail, and Boot Jack Trails in Mt. Tamalpais State Park, and Samuel P. Taylor State Park (external links).
A New State Parks Support Entity
The Parks Forward Commission identified the potential for a new nonprofit support entity for State Parks. When established, this new organization will likely help State Parks fundraise for special projects and initiatives while providing organizational and operational support. In 2016, momentum for this project grew as Senate Bill 1111 was signed into law, authorizing State Parks to partner with this new entity once created.
A New Partnership Office within State Parks

Helping the League and other partners implement many of these projects is the new Partnerships Office at the State Parks headquarters in Sacramento. The office works daily to ensure that their mutually supportive network of partners — like the League, cooperating associations, recreational organizations, other government agencies, universities, tribal groups, and concessionaires — continue to collaborate with State Parks in an effective way. They provide us with support on our numerous projects, from our work in the southern extent of the coast redwood range to rebuild the Pfeiffer Falls trail, to our efforts in northern California to restore thousands of acres of redwood forest.
Since Save the Redwoods League helped unite and form the California State Park system in 1927, we have valued our partnership and our collaborative efforts to protect our redwood parks for all to enjoy. We were honored to be a part of this transformational journey and to work diligently alongside California State Parks and its staff. The work that we started together and the work that we will continue to do will establish a stronger foundation for the care and stewardship of this impressive park system for future generations.
Read the final results and recommendations for California State Parks in the Final Transformation Progress Report (external link) and be sure to book an upcoming trip to the parks on Reserve California (external link).