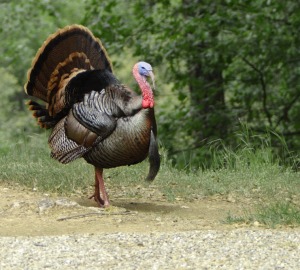 As we sit back and relax on the day after Thanksgiving, our bellies still full from our decadent meals the day before, I'm thinking about turkeys, redwoods, and what the Native Americans might have eaten years before us at this time of year.
Today, we can find wild turkeys in redwood forests from Humboldt in the north to Los Padres National Forest in the south. They're not native to California, though; they were first introduced in the 1870s for hunting, and have since become well established.
The ecological impact of turkey populations in the California wild has not been well documented. Some think they may compete for resources with our native state bird, the California quail, and that their destructive digging can make way for invasive plants and perhaps harm invertebrate populations.
So, even though wild turkeys are abundant now, Native Americans in California were not eating turkey at the time of the first Thanksgiving back in 1621. (In fact, though turkeys are native to the eastern U.S., they probably weren't part of the original Thanksgiving feast, either.)
Many other plants and animals in the redwood forests were important food sources for the local tribes. Native berries like blackberry, thimbleberry, strawberry and huckleberry were regularly eaten when in season. It is well known that Native Americans used the acorns from oak trees to make flour and breads. Madrone berries were chewed and used to make cider, and redwood sorrel was eaten with dried fish. They also fished the abundant salmon and steelhead in the rivers and hunted animals such as deer, rabbit and elk. Additionally, Native Americans used many plants and animals medicinally and to support everyday tasks.
Even though our current Thanksgiving meal is very different from what Native American tribes of California might have eaten a few hundred years ago, I'm still grateful for the plethora of plants and animals that live in the redwoods and make up a dynamic and interactive web of life.