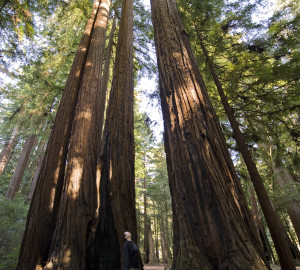 Here at the League, we love getting people out into the redwoods to explore, learn and have fun. And we especially love bringing out everyone's inner scientist to discover the creatures big and small that call the redwood forest their home. So, we are "bioblitzing" again!
You may remember hearing about our participation in the National Park Service and National Geographic BioBlitz in March 2014 when we climbed the trees and explored the canopy at Muir Woods National Monument for the first time. It was an extraordinary event that gave us valuable information about the health of the trees.
This time, we will be bioblitzing at Memorial Park in Pescadero. This is just one of many events celebrating the 90th anniversary of San Mateo County Parks. If you haven't visited Memorial Park, it is a secret beauty tucked away in the San Mateo hills and a redwood park not to be missed. Families visit the park year-round to explore the trail along Pescadero Creek, hike up the nature trail to the Mt. Ellen Summit, and roast s'mores over a campfire at Sequoia Flat campground. You also may have heard about Memorial Park in League news, because we recently got the opportunity to protect neighboring Loma Mar Redwoods!
On Saturday, September 27, from 9 am – 1 pm, we will explore all areas of the park to identify and document as many different plant and animal species as we can. You don't need to be an experienced naturalist to participate; we will learn and discover along the way. Bring your smartphones (to document your findings with the iNaturalist app) and be ready to look high and low for the plants and animals that call this park home.
To register for the event, visit our Memorial Park BioBlitz iNaturalist page.
We hope to see you there!