I fastened on my snowshoes and set off for a wintertime hike among the giant sequoias.  I quickly realized the snow in the forest was patchy at best and completely melted at worst, and it's only March! It was shocking to feel the crunchy leaf duff on the forest floor instead of snow. Even more dramatic was the warm midday temperature up in the Sierra at this time of year.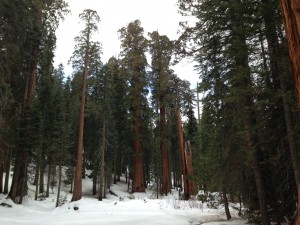 The giant sequoias depend on water from snow melt all year round. With a low snow pack and early spring melting, it makes me and my colleagues wonder if the trees will show signs of drought stress later this year if we don't get any more snow. We'll be keeping a look out for signs of tree trouble through our Redwoods and Climate Change Initiative and I'll keep you posted with any news.
Despite little need for snowshoes, I loved seeing the brilliant red bark of the giant sequoias in winter as I wondered through the woods. I highly recommend a trip to see the massive and impressive giant sequoias soon, before the parks get crowded! Visit our Redwoods Finder interactive map to plan your winter trip.