It's summertime and redwood researchers are putting on their climbing gear and ascending  into the leafy crowns of giant sequoias. A slow climb is worth the effort to see how the giants are growing.
But why climb hundreds of feet to the top? Imagine going to the doctor for a checkup. The doctor would examine you from head to toe. Understanding the health of redwood trees requires a similar approach, meaning that researchers must visit the treetops to see if the giants are growing vigorously.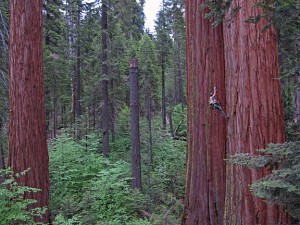 Once among the branches, researchers use special tools to measure how much sugar the leaves are making through photosynthesis and how hydrated the trees are. They also take small samples of wood to see how the tree was growing over the past years. By doing these measurements through time, we will understand if climate change is stressing the trees. All of this effort is part of the Save the Redwoods League Redwoods and Climate Change Initiative, a collaborative research program to understand how climate impacts redwood forests.
For me, searching for signs of redwood growth each year is fascinating. I don't climb the trees as often as my colleagues do, but even from the forest floor I can watch redwood bark split in long vertical lines where young trees are growing wood quickly, and I can see new, bright green redwood leaves wave from the branches above me. Have you seen any signs of redwood growth this summer?