New amenities help you enjoy Hendy Woods even more with friends, families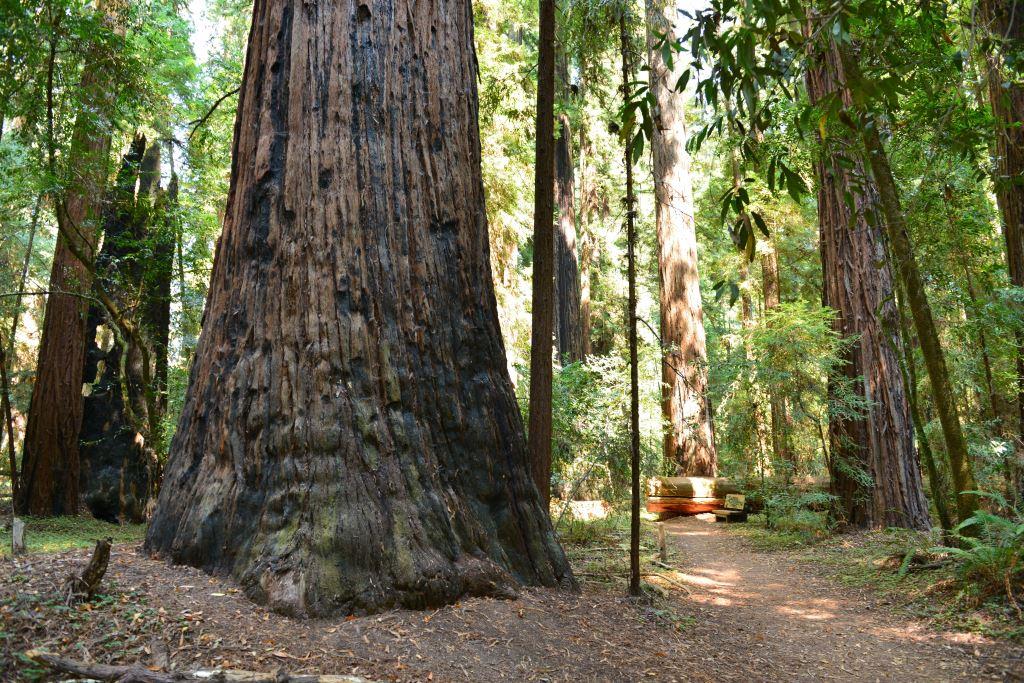 Your New Gateway to Ancient Giants
You and your friends and families are invited to enjoy the improvements your donations made possible at the Hendy Woods State Park Day-Use Area! The new amenities will help make your visit more comfortable, educational and fun.
Please join Save the Redwoods League, Hendy Woods Community, California State Parks and friends for the Grand Reopening of the Day-Use Area at Hendy Woods State Park, home of two breathtaking ancient redwood forests in the heart of Anderson Valley wine region.
Because of your gifts, thousands will enjoy their Hendy Woods visits even more for years to come. Thanks to you, Save the Redwoods League was able to contribute $40,000 toward the $182,826 project's cost; Hendy Woods Community matched that contribution along with $22,826 worth of volunteer hours; California State Parks covered the remainder.
WHEN
1-4 p.m. Sunday, June 28, 2015
WHAT
Enjoy music, appetizers, dessert, prizes and giveaways.
1-1:30 PM: Join us for speakers and a sing-along.
2-3 PM: Take a docent-led walk on the All-Access Trail through the ancient redwood forest.
1-4 PM: Check out the new day-use area featuring these amenities (accessible to people with disabilities): two ramadas with barbecues; bathroom building; drinking fountain and faucet; interpretive signs explaining natural, cultural and recreational points of interest; concrete paths that connect visitor facilities; a repaved and striped 16-stall parking lot, including one disabled space; re-graded All-Access Trail that provides easier access to the beautiful redwood groves; a new bike rack; and a more prominent and accessible trash collection area.
WHERE
Hendy Woods State Park is in the scenic Anderson Valley wine region, less than a three-hour drive from the San Francisco Bay Area, 8 miles northwest of Boonville, a half-mile south of State Highway 128 on Philo-Greenwood Road in southwestern Mendocino County. Get Google directions to the park. Make a day of it: Learn more about Hendy Woods State Park and things to do nearby.
FREE DAY-USE:
ADMISSION: The event and entry to the park for day use will be free of charge. For camping reservations, visit ReserveAmerica.com. Day-use hours are 8 a.m. to sunset
Bring your family and friends to celebrate in this beautiful ancient redwood forest! You're welcome to bring your own picnic lunch and use the barbecues.
Please RSVP by June 21, 2015.
Questions? Please contact our membership department at (415) 820-5800, or email membership@SaveTheRedwoods.org.
Second Sunday of Every Month in 2015: Hendy Woods Community will pay the day-use entry fee for area residents arriving after noon. Offer applies to residents of Yorkville, Boonville, Philo, Navarro, Comptche and Elk. Provide your ZIP code for entry.
Thank You
"Thanks to contributions from our members, Save the Redwoods League is able to help reopen the wonderful day-use area in partnership with Hendy Woods Community and California State Parks," said Sam Hodder, President and CEO of Save the Redwoods League. "The day-use area will help visitors enjoy Hendy Woods even more with their friends and families. These improvements and others like them are part of the League's work to connect more people to the redwood forest for their health and happiness. This work also draws new visitors who will get to know, love and support redwood parks that generations of our members helped to create."
Kathy Bailey of Hendy Woods Community expects that visitors will be happy with the new day-use area. "It's in a beautiful meadow between Big Hendy Grove and the Navarro River," she said.
"Now more people can use this spot because it's accessible to people with disabilities."
Hendy Woods Community and Save the Redwoods League started working together in 2011 to keep Hendy Woods open when state budget cuts threatened to close the park. Now, Hendy Woods Community staffs the visitor center, provides funds for programs and improvements and leads interpretive walks.
For the surrounding Anderson Valley, Hendy Woods is a critical asset, Bailey said.
"We depend on tourism," she said.  "We're a famous wine region, but we have very little public open space.  At 845 acres, Hendy Woods is it.  It gets 50,000 visitors a year. When people ask where they can take a walk, we always direct them to Hendy Woods. And with 94 campsites and four cabins, it also supports most of our overnight accommodations."
Hendy Woods is among more than 40 California state parks that League members have helped create and expand since 1918. These parks harbor 60 percent of the world's remaining old-growth redwood forest — most of the redwood forest that League members have protected.
"The League is deeply invested in the future of these parks and the people who enjoy them," Hodder said. "Our redwood parks make our lives, our communities and our country better."