"Whatever occupation man may follow, there is planted within him a need of nature, calling gently at him at times to come and enjoy, imperiously commanding at other times to seek recuperation and strength." — William Kent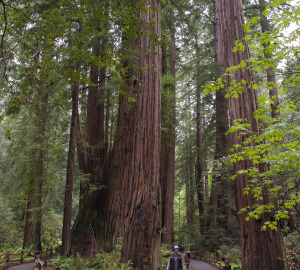 Have you ever been to Muir Woods? What do you remember about your visit there? Maybe the tremendous old-growth redwoods, the sound of redwood creek, the glimpse of a deer in the woods, or the amazing, local food from the café? I have been fortunate to visit Muir Woods on numerous occasions both for work and fun – every visit I stop, take a deep breath, and sigh in awe of the wonders before me. I give thanks to a man who saw the important need to protect these trees and make this park accessible to the world. That man is William Kent and today marks the 107th anniversary of the establishment of this incredible National Monument.
William Kent — a businessman, landowner and congressman — purchased the 211 acres of the last remaining old-growth stands of coast redwoods near the San Francisco Bay Area in 1905 for $45,000. With the purchase of the land, Kent's aim was to protect the large trees and allow others to experience their beauty by turning it into a park. Little did he know the creation of that park would be so urgent and happen so quickly.
Kent believed this forest was protected when he purchased it. However, in the fall of 1907, the North Coast Water Company wanted the land for a reservoir and Kent began to worry he may lose his precious redwoods. At the beginning of December, Kent wrote to Gifford Pinchot and F.E. Olmsted — both Chiefs of the Forest Service — hoping the government would accept the property as a gift. Within weeks Olmstead was visiting the redwood forest and a formal letter was written to the Secretary of the Interior asking that it be deemed a national monument under the Antiquities Act. The government accepted the gift on December 31, 1907 and President Theodore Roosevelt declared it Muir Woods National Monument on January 9, 1908. Within a month this threatened forest was permanently protected.
Although Muir Woods has almost 1,000,000 visitors a year, there are many that still have not seen this gem in Marin County. After living almost 30 years in the Bay Area, my father only recently visited the park a few years ago.
I encourage you to visit the park, stand beneath the old-growth giants and thank Mr. Kent for this generous gift.