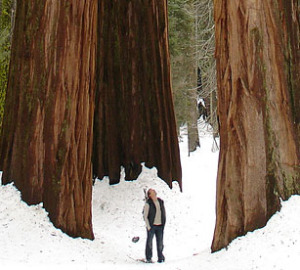 We here in California are all pretty relieved by the rain and snow we have received this winter. Our plants are starting to bounce back, we can go skiing again, and our shoes are actually getting muddy when we hike in the forest.
You know who else is loving this winter: the giant sequoia trees. Large amounts of snow have blanketed the giant sequoia forests, giving them the winter wonderland look and feel they are so known for. According to the California Department of Water Resources, this December and January the snowpack was at normal levels for the first time in three years. Let's hope that continues for the rest of the winter season. A good snowpack will give the giant sequoia much-needed water in the spring when the snow melts.
So, right now is the best time to get outside and enjoy those snowy sequoia trees and I have just the trip for you!
On Saturday, February 27, join me on a snowshoeing adventure at Calaveras Big Trees State Park. Save the Redwoods League is partnering with the California Center for Natural History to lead a guided, hike through the snowy park. Join us to learn about the natural history of the largest trees in the world and our latest research results from our Redwoods and Climate Change Initiative.
You can buy tickets here. All the details are below. We hope to see you among the giants with us!
Date: February 27
Time: 11:00 am – 4:00 pm
Cost: $35.00
Website: http://calnature.org/events/2016/2/27/snowshoeing-in-giant-sequoias
Snowshoes not provided; they are available to rent from many outdoor retailers.