New League report shows most pressing threats to redwood forests include clear-cutting, land development, agriculture, climate change, and altered fire patterns
One hundred years is a brief, passing moment in the life of a redwood tree. In the life of a nonprofit organization, however, 100 years marks a major milestone. In 2018, we celebrate the Centennial of Save the Redwoods League and a century of extraordinary accomplishments in protecting and restoring redwood forests and connecting people to their peace and beauty. Since the organization's founding in 1918, the League—in close collaboration with donors, landowners, public agencies, conservation organizations, and other partners—has protected more than 214,000 acres of California's redwood forests.
In that time, we have created 66 redwood parks and reserves and inspired millions of transformational experiences for generations of visitors from around the world. We have educated thousands of schoolchildren about the ecological significance and resilience of coast redwoods and giant sequoia, invested in science-based forest restoration techniques, and advanced scientific discovery high in the forest canopy. And we have learned through this research that redwood forests store more carbon per acre than any other forest type in the world, confirming that they are a critical resource in our response to climate change.
In the wake of the 1849 Gold Rush and California's explosive demand for lumber, redwood forests that had flourished undisturbed along the North American West Coast for millions of years suddenly faced widespread destruction. In just a few generations, the world's only coast redwood forests were logged across all but 5 percent of their original range. In a matter of decades, we lost approximately 600,000 acres of redwood forest to land conversion, fragmenting the continuous ancient forests that once stretched 450 miles from Big Sur to just across Oregon's southern border.
Similarly, giant sequoia on the west slopes of the Sierra Nevada—among the largest and oldest living species in the world—also suffered huge losses, with nearly a third slashed to the ground. Today, despite the extraordinary conservation efforts of the past 100 years, the old-growth groves that remain are isolated islands surrounded by a sea of clear-cut forests struggling to regain their former stature. A century after the start of the movement to protect the redwoods, the forest reminds us that our work is just beginning.
The First State of Redwoods Conservation Report
To assess the critical challenges facing redwood forests, the League has released its first-ever State of Redwoods Conservation Report. The report details the forests' condition today and identifies pressing threats. In coast redwood forests, centuries of logging destroyed most of the old-growth forests; their recovery is slow on protected lands that need restoration, and is stunted on private lands where logging continues. In addition, land development—including the construction of subdivisions and expansion of agriculture—remains a risk to our rare and treasured coast redwood ecosystem. Two other major challenges to coast redwood and giant sequoia forests include climate change and too few beneficial, naturally occurring wildfires. This suite of threats imperils forests on both public and private land across California.
In addition to the extraordinary value of coast redwood and sequoia forests in sequestering carbon, they also are vitally important for filtering our water, providing resilient habitat for an array of species, and inspiring visitors from around the globe with their magnificence. It is the combination of stressors across the redwood ecosystems that poses the greatest threat to sustaining coast redwood forests for future generations. A variety of conservation and restoration actions are required to protect the future health of the forest. The report makes it clear that we must focus on the need for significant, science-driven intervention and the restoration of coast redwood and giant sequoia ecosystems.
"This report is our wake-up call; a reminder of how critical healthy, resilient redwood forests are to the future of California and beyond," said League President Sam Hodder. "Our Centennial comes at an extraordinary moment. In response to the serious challenges facing our redwood forests that are documented in this report, we have both the opportunity and the responsibility to heal and regrow the old-growth forests of future generations."
The comprehensive report, the culmination of years of research and on-the-ground work by League scientists and our partners, provides a contemporary analysis of the health and condition of the entire coast redwood and giant sequoia forest ecosystems. The report assesses ecosystem health against four key conservation metrics: old-growth forest structure, the extent of protected forestland, the impact of land development on forest edges, and fire readiness.
The State of Redwoods Conservation Report describes how redwood forests play a key role during this period of accelerated climate change. These forests help to mitigate the impact of human-accelerated climate change by storing extraordinary volumes of carbon; they provide habitat for imperiled species; and they remain resilient in the face of change. "Higher-than-expected growth in recent decades suggests that redwoods will persist and enable the redwood forest to be a critical climate refuge for species acutely threatened by climate change," said Emily Burns, the League's Director of Science.
A Remarkable Restoration Opportunity
Compared to forests of the past, today's coast redwood and giant sequoia forests are fragmented, smaller, and more stressed than ever throughout their range. Logging that began over a century ago harvested redwood forests on an industrial scale several times over. Forest regeneration after clear-cutting created unnaturally dense forests with high competition among trees for light and water, resulting in reduced genetic diversity and impairment of the forest's ability to store carbon or provide ample habitat for native species.
Giant sequoia grow in numerous isolated groves on the western slopes of the Sierra Nevada as components of the region's mixed-conifer forest. Even though they were not subject to the same scale of logging or development compared to the coast redwoods, the impacts of forest management and fire exclusion are substantial. Sequoia need frequent low-intensity fires to suppress the growth of other woody species in the groves and encourage the establishment of young seedlings that can only sprout after fire. Decades of fire exclusion practices have made it increasingly difficult to conduct proactive burns. Because of this, other tree species, including white fir, have become densely established in sequoia groves, thus creating ideal conditions for severe fires that could actually threaten giant sequoia and the human communities found at the wildland–urban interface.
While 95 percent of the ancient coast redwood forest was lost, much of the remaining 5 percent has been saved, thanks to the more than 100 years of conservation efforts to protect the last of the old-growth forest from logging. Recent regulatory efforts have helped to enhance stream protection and encourage tree retention in some parts of the forest as industrial harvest of second-, third-, and fourth-growth redwoods continues. Although the protected old-growth groves remain as islands of isolated forests surrounded by fragmented landscapes, there is today an extraordinary opportunity to improve coast redwood and giant sequoia forest ecosystems through accelerated, strategic land conservation and improved stewardship, as detailed in the League's report.
To recover the ecosystems' multiple values and ensure resilience into the future, redwood forests need land conservation at the large, landscape scale, restoration forest management, and policies that support these activities. An effective conservation and restoration strategy for redwood forests requires a public understanding and prioritization of the extraordinary value of a healthy, functioning redwood forest ecosystem. Carbon sequestration, climate resilience, healthy rivers, healthy salmon runs, migration corridors, and inspiring beauty are all critical values for our collective future, and values that the current management of the redwood forests is undermining.

However, as we learn more about forest health, ecosystem dynamics, and the science behind restoration forestry, we have an opportunity to find a different and better balance for the forest. The purpose of the State of Redwoods Conservation Report is to serve as a reference guide to the status of redwoods and giant sequoia today and present the key variables that matter most to their future health: overall age and condition of the forests, varied ownership and protection of redwood and giant sequoia forests, and key stressors and environmental challenges. As governments, nonprofits, landowners, and community partners work to repair the damage done over the last centuries, this report will help all of us in the critical work of protecting what we have, rehabilitating what is damaged, and identifying critical areas and opportunities for future protection and restoration.
"By studying the entire coast redwood and giant sequoia forest ranges, across public and private lands, we are able to see what stressors are most critical to address," said Burns. "With this new insight in hand, we can catalyze new conservation action to protect these remarkable wonders of the natural world."
KEY FINDINGS
The State of Redwoods Conservation Report shows that although coast redwood and giant sequoia forests share many threats, challenges also differ across their respective ranges.
OLD-GROWTH FOREST STRUCTURE
The current extent of old-growth forests in the coast redwood ecosystem is only 5 percent of the original 2.2 million-acre forest. Surrounding the remaining 113,000 acres of old-growth forests is 1.4 million acres of logged redwood forests, half of which is young and with an average trunk diameter of just 8 inches. The other half is of intermediate, "commercial" age, with much of it ready for harvest in the coming decade. In giant sequoia groves, historical logging removed mature trees in at least 24 groves. Out of the 48,000 total acres of giant sequoia forests today, more than 11,000 acres were once heavily logged, and approximately 5,000 more acres were partially logged.
FIRE READINESS
About 90 percent of the coast redwood and giant sequoia ecosystems are burning moderately to significantly less frequently than before European settlement. With wildfire frequency predicted to increase because of climate change, and because of significant fuels accumulation in the forests today, both ecosystems are vulnerable to severe fire damage.
PROTECTED FORESTS
Only 22 percent (345,000 acres) of the coast redwood ecosystem is highly protected from commercial logging, subdivision, and development. However, the vast majority of giant sequoia groves are held in public or tribal ownership, with only 1,200 acres privately owned today.
ADDITIONAL IMPACTS CAUSED BY HUMANS
Since the California Gold Rush in the 19th century, an estimated 27 percent (600,000 acres) of the original coast redwood forest ecosystem was lost when the forest was converted to non-forest uses such as development and agriculture. Nearly 40 percent of the remaining coast redwood forests is impacted by the "edge effect" of those non-forest uses, fragmented by roads, cities, and industrial development, and resulting in degraded habitat along the forests' edges. In contrast, 16 percent of the giant sequoia ecosystem is affected by harmful forest-edge impacts. Roads are the primary type of infrastructure affecting the giant sequoia forests, followed by residential development.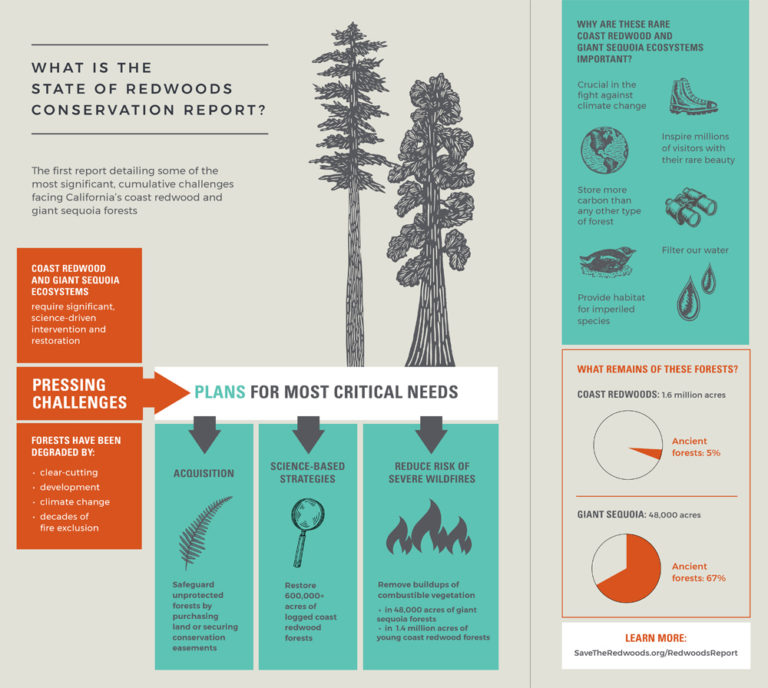 A NEW VISION FOR OUR NEXT CENTURY
Today, at the start of the League's second century, we will meet the challenges identified in the State of Redwoods Conservation Report. The League has a vision to set in motion the protection and restoration of the redwood forests that will inspire future generations and restore resilience in these iconic California ecosystems. The League's new Centennial Vision for Redwoods Conservation includes 100-year goals, objectives, and strategies to address the findings of the State of the Redwoods Conservation Report, all to protect and restore these landscapes, and connect people to the redwoods in the decades to come.
"In a world increasingly defined by the deterioration of global natural treasures—receding glaciers, dammed and dying rivers, unprecedented rates of species extinction—redwood forests have a story of hope and resilience to tell," Hodder said.
Over the past 100 years, we have learned a great deal about how redwood forests function: how roads and clear-cuts jeopardize the health of our forests, how protected islands of redwoods remain vulnerable when surrounded by a sea of cutover lands, and how, by contrast, sustainable forest management practices can actually help redwood forests expand and thrive. At a time when we are struggling to find ways to mitigate the proliferation of carbon in the atmosphere, we have learned that California's ancient redwood forests store more carbon per acre than any other forest type in the world. And as they clean our air and water, offering resilient habitat in a changing world, we know that redwood parks enrich our lives and make our communities stronger.
The Forests We Can Heal
Having saved much of what remains of the old-growth redwood forests, we now must turn our attention to the forests we have lost—the forests we can heal. We will devote our efforts to regrow the broader resilience and function of the redwood ecosystems and share their inspirational beauty through an extraordinary network of parks.
"What the forests require of us now," Hodder said, "is that we accelerate our conservation efforts, that we restore their vitality and resilience, and that we inspire a new generation of visitors to be their stewards of the future."
This ambitious effort will create vibrant, expansive old-growth redwood forests for the future. Our vision is built upon decades of land-based conservation work and deliberate, focused, scientific research. It asserts that our redwood forests need a "landscape," or large-scale, strategy for sustainable, resilient, and effective conservation. In advancing this vision, we assert that protecting the 5 percent of the original coast redwood forests is not the end of our conservation effort, but the starting point for the forests we will regrow together.
We contend that to truly protect redwood forests and ensure their resilience for the future, we must double the acreage of forests in reserves over the next 100 years and ensure that no additional redwood forests are lost to subdivision or development. We believe that young redwood forests currently struggling to recover from generations of clear-cutting can become the old-growth forests of the future with our active help, deliberate, science-based restoration treatments, and time and space to grow.
In addition to doubling the size of redwood reserves over the next 100 years to grow the old-growth forests of the future, we believe that commercial forestry of high ecological standards can be a part of the solution, helping strategic areas of heavily impacted redwood forest regain their natural resilience and stature. And we believe that the people deserve a redwood park system that is as inspiring as the forests themselves.
1 Million Acres Remain Unprotected
Today, more than a million acres of redwood forests remain unprotected and managed primarily for commercial timber production. Although forest practices have improved over the decades, our protected forests are often surrounded by lands degraded by destructive past practices, turning them into islands lacking critical connections to surrounding landscapes. Furthermore, young redwood forests that surround these islands are struggling in a state of perpetual recovery as the rotating cycle of commercial harvests suppresses their natural tendency to thrive and grow into mature, healthy forests.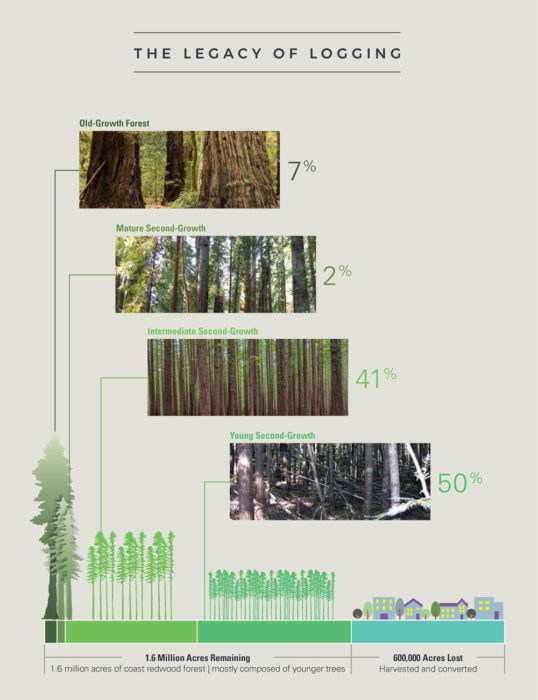 "In an era when we face loss of biodiversity and natural habitat at an unprecedented rate worldwide, the irrepressible resilience of the redwoods gives us hope," Hodder said. "The redwood trees that once dominated the California coast—those ancient forests that were cut down to build our cities—are still there. We have the opportunity to reclaim these young, recovering forests, fulfill their potential to be a tremendous resource in mitigating climate change, and restore resilience into an ecosystem that has thrived since an earlier era of Earth."
At the dawn of our next century, we seek to increase the scale and impact of our conservation work—our longstanding mission of saving healthy, vibrant redwood forests demands it. By collaborating with landowners, local communities, public agencies, and our members and supporters, we can make transformative landscape-scale change that will:
Reassemble vibrant redwood forests that connect groves with their surrounding environment through strategic land acquisitions and landowner agreements.
Accelerate the recovery of second-growth forests with deliberate, science-based forest management, blurring the line between old and young stands so they eventually merge into the resilient and naturally functioning coast redwood range of the future.
Increase the sequestration of carbon to mitigate climate change, and provide resilient refuges for diverse plant and animal life through the restoration of the coast redwood range.
Enhance recovering forests by thinning unnaturally dense stands of trees to encourage growth of select redwoods; decommissioning old logging roads to protect streams and reconnect habitats; reducing fuel loads (accumulations of combustible vegetation) to enhance fire resilience; and reintroducing natural disturbance regimes (historical patterns of natural processes such as fire) to recreate natural systems and accelerate the transition to old-growth forest form and function.
Lead the reimagining of our redwood park system to prepare for a new generation of visitors and future park stewards.
Leverage new investments in recreational, educational, and interpretive infrastructure and programming in our protected redwood parks to connect people to the peace and beauty of redwoods through extraordinary experiences that inspire a lifetime of love and reverence for the natural world.
Collaborate with local communities to develop and sustain restoration- and recreation-based economies created around the repair and management of recovering forests and the enhancement of park infrastructure.
At its core, our Centennial Vision for Redwoods Conservation is about preserving these globally significant forests—and the transformative redwood moments they inspire—for generations to come. Redwood forests are among our most sacred places; where we go to renew our spirits and immerse ourselves in their silent beauty, find peace and comfort in their resilience, gain perspective and humble respect for their unfathomable longevity, and witness firsthand the irrepressible power of nature. To walk among these giants is to look upon the original face of nature and experience the incomparable majesty and beauty of the world's tallest and some of the largest living things.
Our first chapter, spanning the past 100 years, is filled with stories and accomplishments detailing how we stopped the destruction of these superlative forests and how we saved treasured examples of the wild and ancient groves that once dominated California's coast and mountains. Now, we begin our second chapter, safeguarding these ancient groves and healing the forests that surround and sustain them.
Together with our supporters and partners, we will set in motion the reclamation of the ancient redwood range and nurture the new forests that will inspire future generations to continue this critical work, all the while renewing our human connection to the natural world through these treasured redwood parklands.
With your help, we can continue writing this future together and take the first essential steps toward creating the ancient forests of tomorrow .
---
Learn more:
State of Redwoods Conservation Report
Centennial Vision for Redwoods Conservation
---
Tags: Autumn 2018, Centennial Vision, Magazine, State of Redwoods Conservation Report