A Conservation Leader Discusses New Directions for Protecting our Natural Resources in Turbulent Times

Save the Redwoods League sat down recently with Jonathan Jarvis, former National Park Service Director, to discuss the redwood forest and its next 100 years, as well as his new book, The Future of Conservation in America—A Chart for Rough Water.
Save the Redwoods League (LEAGUE): What role did redwoods play in the history of the National Park Service and the conservation movement in the United States?
Jonathan Jarvis (JJ): If you include the giant sequoias in that discussion, redwoods are the origin species. Abraham Lincoln set aside the Mariposa Grove of Giant Sequoias outside of Yosemite National Park during the Civil War. It was the first time in our nation's history that a scenic natural area was set aside for all people. It was the beginning. Fast forward to the redwoods of Muir Woods National Monument. Philanthropist William Kent donated this redwood forest to the American people in 1907 as a private asset and converted it into a public asset.
LEAGUE: And in 1918, the ancient redwood forest inspired our founders to establish the League, helping to launch the nation's conservation movement.
JJ: Redwood trees are iconic. The sequoia is on the patch of the National Park Service. I like to say the Park Service preserves places, physical assets, and ideas. The redwoods embody all of those.
LEAGUE: In your book, you detail steps that individuals and organizations can take to ensure a viable and healthy future. What role can redwoods play in that future regarding education, connecting people to parks in general, and diversity issues?
JJ: All of the above. The redwood forests are often called the American cathedrals. They are places where people feel inspired. We know that these places have the ability to evoke an emotional response. The trick is to convert that power and emotional response into advocacy. Convert it into appreciation, into being at peace with your fellow man, or inspiration for young people to pursue a life in the field of natural resources. Redwoods can do all of those things.
The Millennial generation is the largest demographic cohort in the history of the nation. It is the most diverse. They will be in charge soon. I think we've got to think about them in a much more coherent and collective way. The most effective process for introducing the next generation to parks and to careers in parks and protected areas is to have multiple experiences, or touch points, from young childhood to adulthood. Some of the research I've read says you need at least three touch points. I would say that would be the minimum. There have to be more.
The trouble is most of them only get one touch, if that, and that's usually some sort of structured thing through the schools, like a fourth-grade field trip. Is there a connection, a ladder of engagement for that child? How do we put that together—that ladder of engagement—so you're creating alumni of those experiences? There is the role of agencies and the nonprofit organizations. There's the role of educators. But there's also the need of access and availability of places nearby, because if you don't have a green space near your home, then you're probably not going to have that kind of experience. Redwoods can help make this happen.
LEAGUE: That's why the League provides redwood forest experiences for kids of all ages through our Education Program. What role can redwoods play in the future of science and restoration?
JJ: There are a couple of ways. One is that within any ecosystem there are umbrella species. They are species that if you take care of them, other components of the ecosystem will thrive. Redwoods are one of those species—the way the species collects fog, the way it activates the soil, its decay process, and all the interactions that it has with the understory. All of that is integral to that ecosystem. So, protection is key. I'm also a big believer that if you give nature a chance, it does well.
Obviously, we have accelerated a lot of our impacts on redwood forests, whether if it was from harvesting, or now with climate change. But restoration ecology is an emerging field, and Redwood National and State Parks have been a pioneer in understanding how to restore redwood forests and also how to work with companies that are still in the process of harvesting.
The League is pioneering new restoration techniques; certainly the understanding of the genome of the redwood is cutting-edge science about how you're going to select trees that can persist and thrive in a changing climate.
Redwoods have a major role in science, and the League is a science-driven organization. I think that's incredibly important. You can be an anchor in a large landscape. We need to look at our landscapes, and the book explores this as a much more integrated and collaborative approach.
The redwoods, because of their iconic status, can be a cause. They can be an example of how to help drive that larger landscape work well into the next 100 years.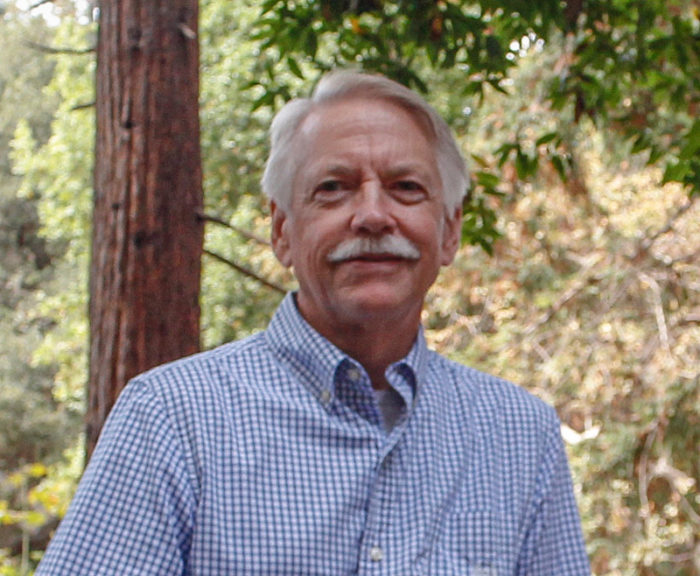 Photo by Jeremy Snowden.
About Jonathan Jarvis
Jonathan Jarvis served the National Park Service for 40 years, including his tenure as director from 2009 to 2017. He led the service through its Centennial with a vision for a second century of park stewardship and engaging diverse communities through recreation, conservation, and historic site preservation programs. Jarvis advised the League on our vision for our second century of protecting, restoring, and connecting people to the redwood forest. Now he is the inaugural executive director of the Institute for Parks, People, and Biodiversity, established in 2017 at the University of California, Berkeley. The institute helps inform future policy and management directions for parks.
Learn More
Read about the League's vision for its second century of protecting, restoring, and connecting people to redwood forests.
See a review of Jarvis' new book, The Future of Conservation in America— A Chart for Rough Water.
---
Tags: Autumn 2018, books, conservation, Jonathan Jarvis, Magazine, next 100 years, The Future of Conservation in America