In 2021, the League secured big conservation wins and planted seeds for a brighter future for redwoods and people
2021 blew by. With a thrilling closer to another monumental year for the League, we barely had our moment to just reflect and say, "We did that." It's easy to get swept up and move on to the next thing, but the truth is none of our work is ever behind us. Everything we do toward our centennial vision is taking root right now, shaping this very moment and generating a better future. And beneath the surface, there are even more interconnected pieces just waiting to be revealed. In these early days of 2022, even as we move forward, let's take time to reflect on a prolific year that will have impacts that reverberate for generations to come. 
Acquiring Lost Coast Redwoods
In 2019, the League learned that an amazing 3,100-acre redwood timber property in northern Mendocino County was going on the market. After more than a year-long pause because of the pandemic, the prospect became real in December 2020, and it came fast. With incredible support from more than 5,000 donors from all over the country, in one month we were able to close on this tremendous acquisition of 5 miles of the California coast and more than 2,250 acres of redwood forest that could have otherwise been aggressively logged. The League continues to raise funds for the stewardship of this land and plans to work with tribal and public agency partners to give cultural and public access to this once private coast within Sinkyone, Cahto, and Coast Yuki traditional territories. 
Protecting Mailliard Ranch
In southern Mendocino County, we finished the final phase of protecting Mailliard Ranch, a nearly 15,000-acre redwood forest at the headwaters of three critical watersheds. Three easements now protect the entire property, including nearly 1,000 acres of old growth and mixed conifer reserves and 26 miles of salmon-bearing streams. The easements' protections last forever, regardless of who owns the land in the future.   
Renovated Pfeiffer Falls Trail
After being badly damaged in the July 2008 Basin Complex Fire, the Pfeiffer Falls Trail reopened in June 2021 for hiking, better than ever before. Twelve years in the making, this challenging project has persisted through fires and landslides and is a testament to the great and enduring partnership between Save the Redwoods League and California State Parks. The newly aligned 0.75-mile Pfeiffer Falls Trail offers an improved visitor experience while bolstering the health of the ecosystem. 
Improved Access to Grove of Titans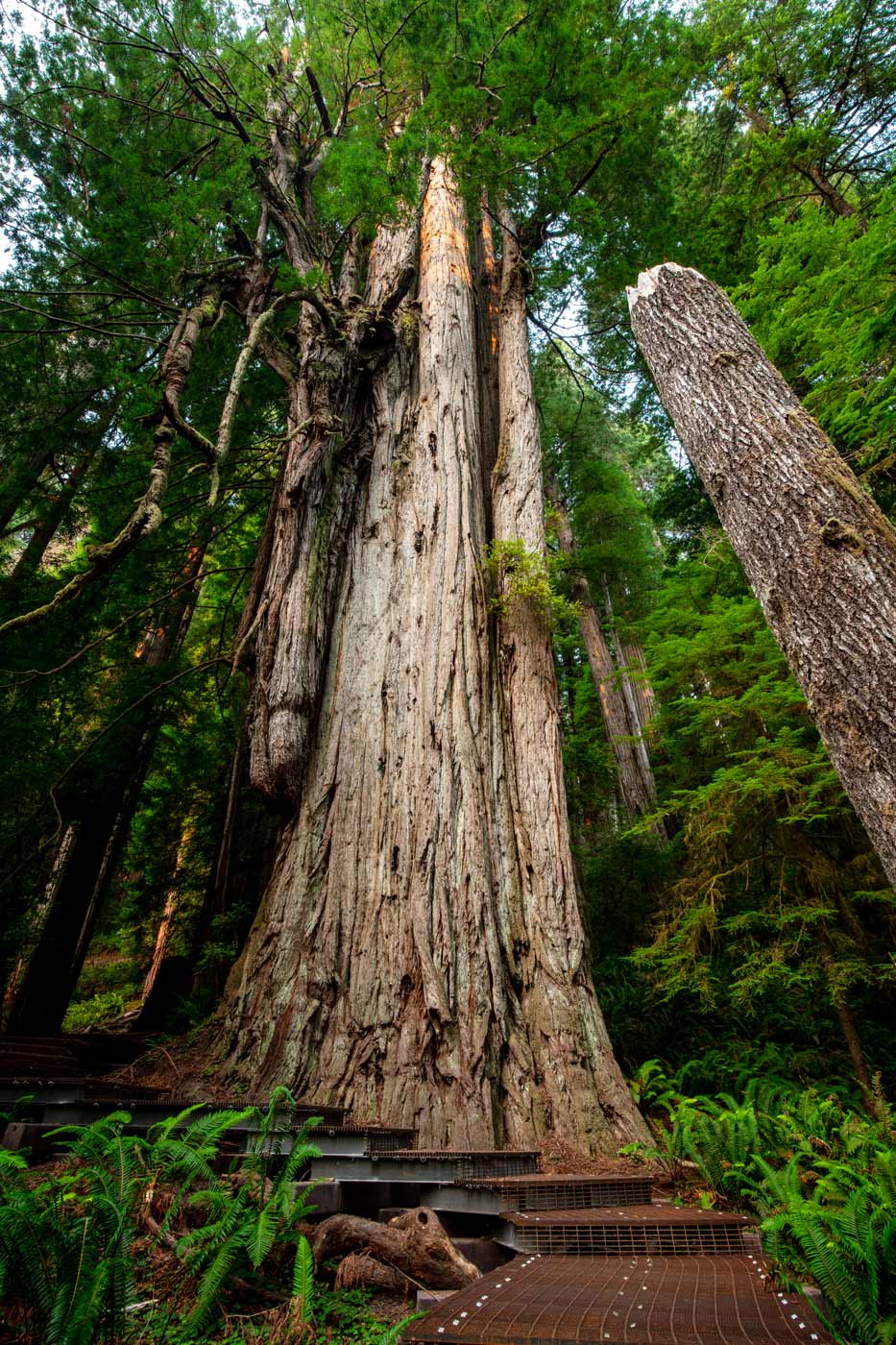 After adventure enthusiasts shared GPS coordinates to the primeval Grove of Titans in 2011, an influx of visitors trampled sensitive understory plants, exposed tree roots, and caused soil erosion. In November 2018, Save the Redwoods League partnered with California State Parks, the National Park Service, and Redwood Parks Conservancy to develop an enhanced, ecologically sound visitor experience at Grove of Titans. In September 2021, the first mile of the renovated Mill Creek Trail was reopened to the public, providing limited access to a new boardwalk through the Grove of Titans. The League and our partners have had the great privilege of working with representatives from the Tolowa Dee-ni' Nation to develop interpretive panels that amplify Indigenous history and living culture. 
Wildfire Action
As we faced another challenging fire season in the giant sequoia range, the League joined a coalition of government agencies, tribes, and nonprofit organizations committed to protecting these iconic forests. The Giant Sequoia Lands Coalition will raise public awareness about the crisis, build the scientific research on wildfire and climate change, and drive action on the ground to improve the forests' resilience. The League also participated in the drafting of Assembly Bill 642, which further expands the use of prescribed burning, in part by growing and incorporating cultural burning by tribal communities. The bill was approved by Gov. Gavin Newsom in September 2021.  
I'll Go If You Go
The pandemic halted our planned community events and hindered our opportunities to have face-to-face conversations with community members. To fill this void, we were inspired to launch our first ever podcast, I'll Go If You Go. The podcast features emergent outdoor leaders and League partners from underrepresented and marginalized communities, illuminating how Californians from all walks of life think about and experience nature and conservation—in the redwoods and beyond. Stay tuned for season 2 in January 2022. 
Connecting With Communities
As we experienced some respite from the pandemic, we were able to host a few in-person community events over the spring and summer. In May we checked out some Southern California redwoods in Carbon Canyon Regional Park with Outdoor Asian. We welcomed 140 guests to Arcata Redwood Park and Rohner Park in Fortuna. And in the fall we resumed some of our field trips in Oakland, California, encouraging students to explore the redwoods near home. We hope that these moments in the redwoods have intergenerational impacts on individual and community well-being. 
Building the Redwood National and State Parks Trails Gateway
The League acquired the 125-acre Orick Mill site in 2013. In 2021 we began construction on a southern visitor gateway to Redwood National and State Parks. The Trails Gateway and Restoration project will include new trail access to these iconic parks, along with other visitor amenities and a Yurok Village Site managed by the Yurok Tribe. The project also will fully restore the ecological integrity of Prairie Creek. The work will be completed in 2025, and the land will be transferred to the National Park Service in 2026. 
Deb Haaland at Redwoods Rising
The League and our partners had the great honor of hosting Secretary of the Interior Deb Haaland for a tour of Redwoods Rising, our joint project with California State Parks and the National Park Service to restore 70,000 acres of historically logged redwood forest. Haaland and Brenda Mallory, White House Council on Environmental Quality chair, met with community leaders involved in the partnership and discussed how the program is not only returning the forest to its former glory, but also providing local jobs, building climate resilience, and contributing to the federal goal of protecting 30% of the country's lands and coastal waters by 2030. 
Redwoods Magazine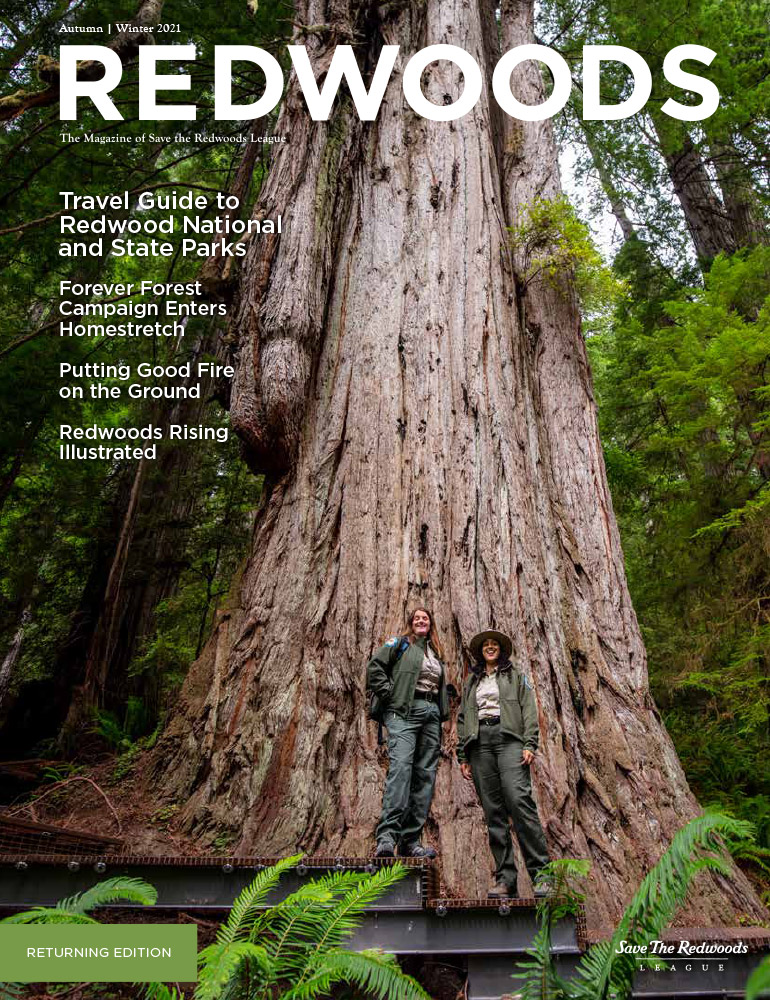 We published two gorgeous issues of Redwoods magazine (Spring/Summer and Autumn/Winter). With stories highlighting the Klamath River dam removal and its link to tribal food sovereignty, a trip to the redwoods of New Zealand, a Redwood National and State Parks travel guide, and a primer on what goes into prescribed burns, our magazine explores the diverse culture of redwoods and the League's work to protect, restore, and connect the forest to all people. 
Dog-Friendly Redwood Parks Guide
What do dogs and time in the forest have in common? Both can give you a major dopamine boost. So why not bring the two together for double the fun? We created an e-guide to exploring the redwoods with canine companions, and it was a crowd pleaser. 
Redwood Genome in G3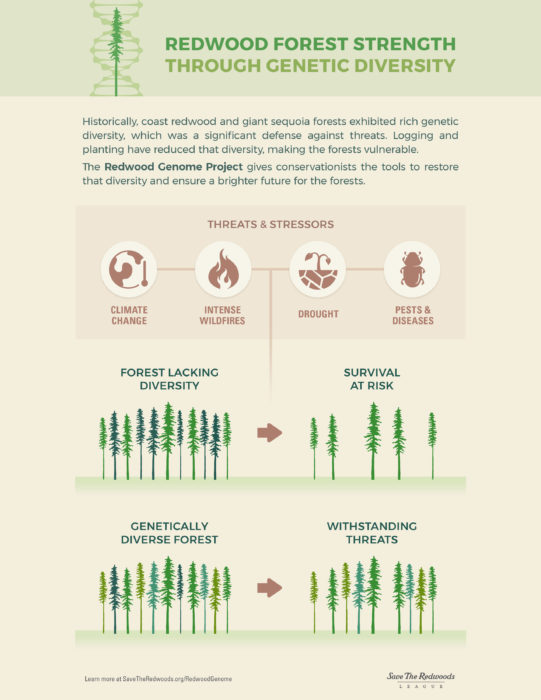 In Redwood Genome Project news, the League and our partners published new research in G3: Genes, Genomes, Genetics, identifying the makeup of the coast redwood and giant sequoia genomes. The research helps us better understand the genetic basis for these species' ability to adapt to their changing environments. The full data is available on Neale Lab's UC Davis website. 
Take Me to the Trees
While we were sad that we couldn't host our annual celebration in person for the second year in a row, we made the best of it with another wonderful live virtual celebration. We connected with hundreds of supporters from all over the world and raise more than $700,000 for our parks and education programs. Relive the magic here. 
Giving TREESday: Save Our Sequoias
We had our biggest Giving TREESday end-of-year fundraiser yet! We sent out the S.O.S. to Save Our Sequoias and our donors responded. Over 1,000 people came together to exceed our goal of raising $75,000 to help accelerate our work to train the sequoia stewardship workforce, collaborate with Indigenous practitioners, and prepare giant sequoia forests before next year's wildfire season. 
We've got a lot more in store for 2022. Stay tuned!