REDWOODS magazine: This article was created for our magazine that features redwoods news, breathtaking photos, answers to readers' questions, stories of how we are realizing our vision for our next century, and how you can help the forest. Tell us what you think about this issue of REDWOODS magazine for a chance to win a fun prize!
---
Enjoy dog-friendly hiking, mountain biking, a new tree exhibit, panoramic views, and more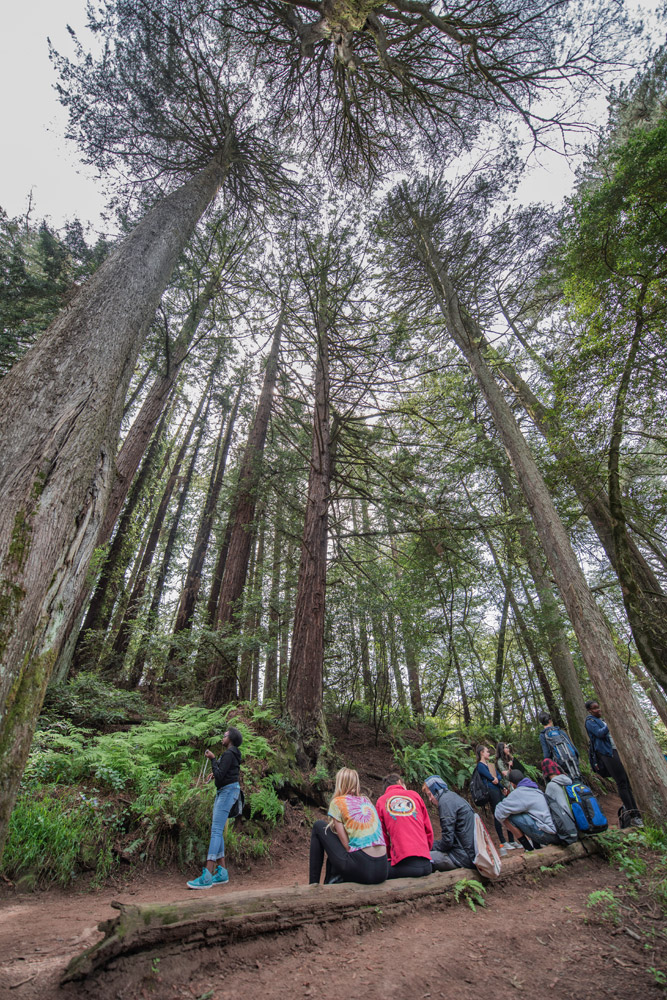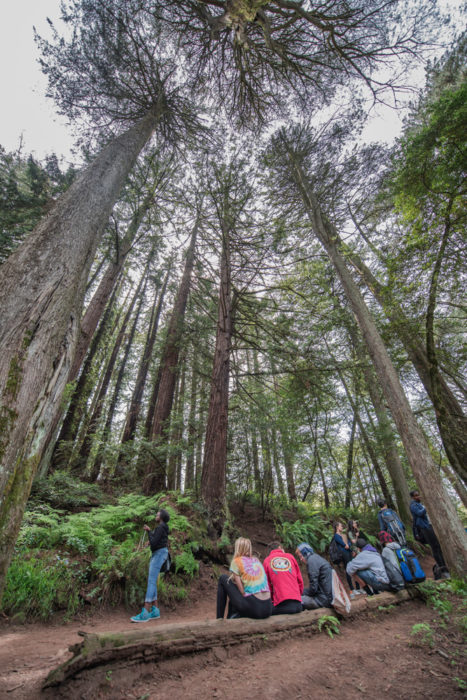 In the hills of Oakland, California, a lush forest of young redwoods rises among the footprints of ancient giants that were logged in the mid-1800s to build area cities. The 82-acre Roberts Regional Recreation Area offers easy access to the 150-foot-tall redwoods just steps from the parking lot.
Opened in 1952 and named in honor of Thomas J. "Tommy" Roberts, longtime secretary of the East Bay Regional Park District Board of Directors, the park is an oasis of green—a breath of crisp, fresh oxygen in the bustling city of Oakland.
Bring along a snack or a lunch, as the park's scenic picnic spots are perfectly inviting for a day of forest bathing.
Near the Madrone picnic area, two giant redwoods once stood, so massive that in the 1800s, sailors in San Francisco Bay used them as landmarks to avoid crashing into the underwater Blossom Rock.
Roberts is also a wonderland for play, with an archery range, a baseball field and a sand volleyball court. Wheelchair users can enjoy features such as a playground, picnic areas, and the Roberts Pool complex, open from mid-April through the end of September.
Four miles of trails are popular with hikers, dog walkers, mountain bikers, and horseback riders. On a clear day, face east at the top of the 0.2-mile Manzanita Loop trail, and you'll see Mount Diablo in all its glory. The West Ridge Trail extends into the 1,830-acre Redwood Regional Park, which features nearly 40 miles of trails through a canyon shaded by redwood forests, as well as chaparral and grasslands.
Home to the largest coast redwood forest in the San Francisco Bay Area's East Bay, these two adjacent parks are more than worthy of a trip.
HIGHLIGHT: Check out the 18-foot-wide footprint of a redwood that stood before the area was logged in the mid-1800s. You can learn about it at the Old-Growth Redwood Heritage Viewing Deck and Interpretive Exhibit, completed in 2018 by Save the Redwoods League and East Bay Regional Park District. The deck, at the intersection of Roberts Ridge and West Ridge trails, is a short walk from the Redwood Bowl parking area.
HIDDEN GEM: Take the West Ridge Trail to the Redwood Peak Trail, where sandstone is carved with dates as far back as the 1800s—a sign that the area has attracted visitors since long before the park was established.
TRAILS: Four miles of trails with connections to neighboring Redwood Regional Park.
DOGS: Off-leash in undeveloped areas, leashed in developed areas such as parking lots and picnic areas.
BEST TIME TO VISIT: Year-round.
LOCATION: 10570 Skyline Boulevard, Oakland, California.
LEARN MORE: Call East Bay Regional Park District at 888-327-2757.
NEARBY: In neighboring Redwood Regional Park, Chabot Space & Science Center features a planetarium, interactive exhibits, a theater, and telescopes.
TRANSIT: AC Transit serves the area.