Yosemite National Park is world famous for its spectacular glacier-carved valleys, sheer granite walls, lofty thundering waterfalls and the colossal trees in the Mariposa Grove of Giant Sequoias. So amazing are the sizes of the hundreds of giant sequoias that the grove sparked the conservation movement.
During the dark times of the Civil War in 1864, President Abraham Lincoln signed the
Yosemite Grant Act, protecting the ancient grove and Yosemite Valley for public recreation. This act was the first in our nation's history to set aside scenic natural areas for future generations, predating the establishment of our national park system.
Still, the decades since haven't always been kind to this national treasure. Infrastructure interfered with natural water flow to the grove's trees, and erosion from construction and road use compacted the soil and injured and damaged roots of even the most formidable giant sequoias.
---
Research in Progress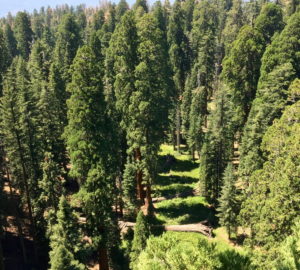 In 2014, the National Park Service, with support from Save the Redwoods League and the Yosemite Conservancy, started to restore the park's largest sequoia grove to its former glory. Our Redwoods and Climate Change Initiative researchers have been studying the great grandfather trees, scaling their colossal trunks, mapping their labyrinthine crowns, and chronicling their growth history through first-ever core samples collected in the forest canopy. One of their discoveries was a 120-year-old pine growing out of a burnt-out pocket high in the canopy! Researchers will share their findings soon.
The grove is expected to reopen this fall. In addition to red giants standing higher than a 30-story building, visitors will find new, wheelchair-accessible trails and boardwalks; roads converted into hiking trails; a transit hub; and shuttle service. A new interpretive display will feature a cross section of trunk from an 805-year-old giant sequoia that fell in the grove in 1954. From this sample, scientists learned that a fire occurred in the grove in 1580, and another in the late summer of 1728. In all, the grove restoration would make President Lincoln proud.
---
Visiting Mariposa Grove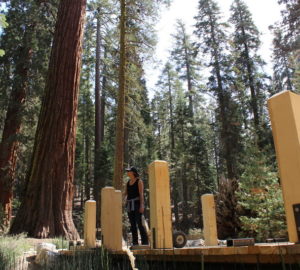 Highlights
Grizzly Giant, 1,800 years old, 30 feet wide (the length of two cars); Faithful Couple, two large trees fused at the base; Clothespin Tree, in which many fires have excavated a natural tunnel wider than a car.
2 miles from Yosemite's south entrance off California State Route 41
Trail lengths
Wheelchair-accessible trails: 0.75 mile. Round-trips: Grizzly Giant loop,
2.2 miles; lower and upper grove areas, 5-6 miles.
Elevation gain
As much as 1,200 feet in the upper grove.
Hiking time
1-4 hours
Best time to visit
Year-round. The lower grove is crowded in the summer, and roads will close intermittently in the winter, depending on snow.
Learn more
To see when the grove will reopen this fall and to plan your trip, visit Yosemite National Park's website (external link) or call the park at 209-372-0200.
---
Tags: Autumn 2017, Magazine, Mariposa Grove, travel, Yosemite, Yosemite National Park