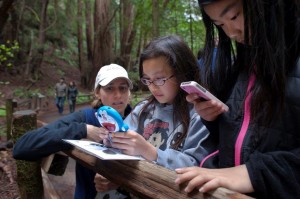 On March 28th, over 4,000 visitors and volunteer scientists arrived at Muir Woods National Monument ready to learn, discover, and explore this absolutely amazing redwood forest. Thousands more visited the Crissy Field Center for the Biodiversity Festival. Whether or not they were there for the BioBlitz, everyone had science fever!
I was fortunate enough to be able to work with the youth participating in the event, which proved to be a valuable and rewarding experience. Elementary school students inventoried for insects, birds and plants carefully noting their observations on data sheet. Our group was in charge of spotting insects and we found numerous yellow-spotted millipedes crawling through the duff. I also led Berkeley High School students on a walk through the forest where we talked about redwood ecology and took pictures of the trees for our citizen science project, Redwood Watch. Most of these students knew nothing about the redwood forest and were so thrilled to be amongst the tallest trees in the word.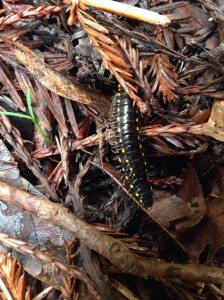 On the other side of the bridge, thousands of students walked through the Biodiversity Festival where they stopped at our redwood table to learn about the biodiversity of redwood forests. They learned about the different plants and animals which live in the redwoods and predicted if they lived on the forest floor or up in the canopy. They also looked at lichen samples under microscopes and touched a replica of a redwood canopy. Many students returned to the table later in the day with their families to teach them all about redwoods!
This event was a great opportunity to bring science and education together to connect people to their local environment and National Parks.