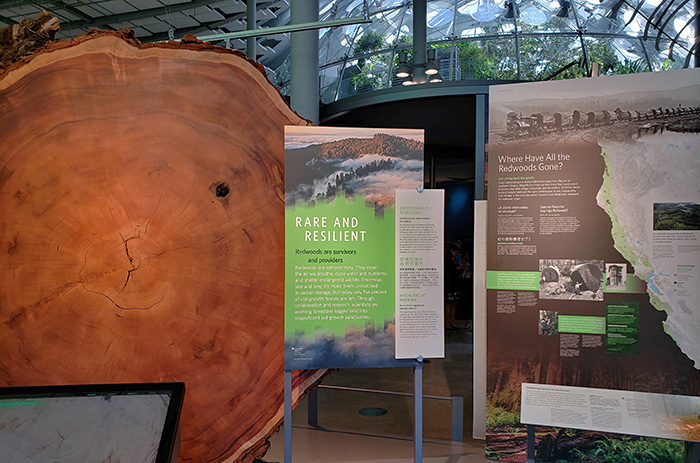 California is a land of extremes. From tectonic plates that have shaped a landscape so biodiverse and dramatic to an infinite ocean lush with kelp forests and mighty marine mammals, this wild place almost has to be seen to be believed.
The Giants of Land and Sea exhibit at the California Academy of Sciences gives an interactive look at one of nature's most perfect manifestations of ecological balance: In Northern California, an ancient redwood forest cloaks the rocky coastline, drawing life force from the Pacific Ocean to sustain an otherworldly place.
"The landscape and natural history of Northern California is like nowhere else on Earth, and our goal with this exhibit is to immerse Academy visitors in the giant natural forces that make this area so unique," says Scott Moran, Senior Director of Exhibits and Architecture at the California Academy of Sciences. "In a single visit, they can walk through a blanket of fog, virtually climb to the top of a towering redwood, feel the jolt of an earthquake, and learn about the similarities we share with some of the ocean's largest marine mammals. But most importantly, we hope they'll learn how these ecosystems are connected and why they're so important to sustain for the future."
Coast redwoods are among California's most formidable giants. Through an immersive video experience at the exhibit, visitors can follow intrepid League-sponsored scientists as they ascend to the top of the redwood canopy. The sights and sounds of the primeval forest captivate the senses.
A centerpiece of the exhibit is an enormous cross-section of a trunk from an old-growth coast redwood that fell in Prairie Creek Redwoods State Park during a storm in February 2017. Save the Redwoods League, California Academy of Sciences, California State Parks, and Humboldt State University worked together to bring this incredible sample to the museum. The entire tree weighed nearly half a million pounds and stood at 265 feet tall. Procuring the 8,500-pound, 8.5-foot-wide tree cookie was no small feat. Once cut from about 150 feet up the trunk, it had to be airlifted by helicopter to a flat-bed truck, then transported hundreds of miles so it could be dried and prepped to be shown in all its glory.
Allyson Carroll, a researcher at Humboldt State University, worked under the League's Redwoods and Climate Change Initiative to perform a detailed analysis of the specimen. Her findings provided the educational materials for the interpretive display, which illuminates the natural history and ecology of Sequoia sempervirens, as well as the League's conservation work. A digital touch screen gives a close look at the trunk's rings, revealing fascinating details about the tree's life during its 800 years on this planet.
Redwoods wouldn't be the giants they are without the ghostly fog that shrouds the forest. The frigid waters of the Pacific Ocean generate the iconic summer mist that blankets and cools the Bay Area, creating the ideal environment for coast redwoods to stay hydrated and thrive. The exhibit features a fog room that lets visitors experience this phenomenon of magic and science.
The Shake Room is another highlight, simulating the Bay Area's 1906 and 1989 earthquakes – a shocking reminder that the land is geologically active and ever-changing. The exhibit also includes colossal skeletons of whales and other marine mammals to show the magnificence of our wildlife kin.
Interpreted in English, Spanish, Chinese and Filipino, Giants of Land and Sea makes Northern California's epic landscapes and seascapes conceivable. The living systems humans share with plants, animals, the land and the water become tangible. This deep connection to our wild spaces is a vital source of inspiration that invigorates local Californians to learn from Native tribes and scientists how to protect our forests, our oceans and all life for future generations.
Learn more about the Giants of Land and Sea exhibit at the California Academy of Sciences in San Francisco, California. Afterward, if you're feeling inspired to see these giants of Northern California up close, visit ExploreRedwoods.org to plan your trip.