New attraction at Eureka's Sequoia Park Zoo set to open June 4
The new Redwood Sky Walk in Eureka's Sequoia Park Zoo showcases some of California's most impressive trees. The $4 million canopy trail rises more than 100 feet above the forest floor in the city's community forest, which includes California's oldest zoo and tree titans rivaling those of nearby Redwood National Park and the Avenue of the Giants. 
Slated to officially open June 4, the eco-adventure was built by the Portland-based company Synergo, which specializes in aerial forest experiences and uses state-of-the-art low-impact environmental engineering techniques to protect the trees. 
The series of suspended bridges and tree platforms overlooks the Zoo and nature preserve, which consists of 70 acres of redwoods, much of it old growth. Most of the quarter-mile walkway is ADA compliant and, for more intrepid visitors, offers a bonus adventure leg with square open mesh decking, making a thrilling but safe back and forth sway.  
"It's really something to see a redwood forest from the canopy," said Jennifer Benito, the League's chief marketing and communications officer, who took a early tour of the new facility a few weeks ago. "We're used to seeing these amazing forests from the ground, but the walkways give you a whole new perspective. There's a whole different ecosystem up there to explore."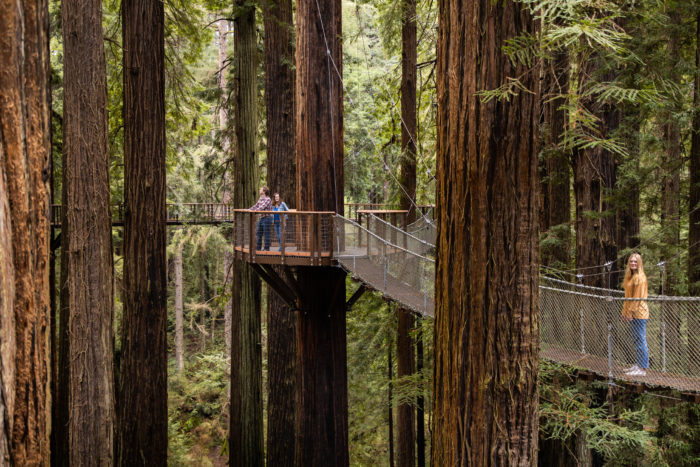 The Sequoia Park Zoo, a fun-sized experience dedicated to preserving native animals of the Redwood Coast and rare species of the world, features river otters, local salmon, a Northern spotted owl and North American porcupine, bald eagles, red pandas, spider monkeys, bush dogs, flamingos and more.
Admission to the Redwood Sky Walk is included with entry to the zoo. Face masks are required for ages 3 and older on the attraction and in the zoo, which encourages social distancing and frequent hand washing. There are hand sanitizer stations throughout the zoo.  
The Sequoia Park forest includes miles of trails that meander among the giant trees as well as springs, creeks, meadows and a hidden grotto with a gentle waterfall. Some are paved, making them suitable for wheelchairs, cyclists and baby strollers. Two playgrounds are in the park, including one near the scenic duck pond and another with a series of tall metal slides nestled in a redwood fairy ring, a popular amusement for the kids. 
The primary donor of the Redwood Sky Walk is the Eureka Lodging Alliance, a non-profit association of hoteliers dedicated to promoting responsible tourism among the many natural and cultural wonders of Eureka and Humboldt County.