Forever Forest Campaign supports pioneering efforts, entering homestretch with a $1 million challenge to secure our vision for the next century of redwoods conservation
For 100 years, Save the Redwoods League has stood between California's iconic redwood trees and the axe. We held the line, saving the last of the world's ancient redwoods. These remaining pockets of the original primeval redwood forest are islands in a sea of clear-cut lands along endless stretches of highway. While dense conifer forests cloak the distant hills in green, the average traveler may not realize that large swaths of that landscape are not wilderness, but commercial forests.
Approximately 1 million acres of coast redwood forests are under industrial timber management. In its second century, Save the Redwoods League has set in motion a vision to safeguard nearly half of these remaining lands, working with willing sellers to protect and restore them to become old-growth forests for future generations, and to connect all people to the inspiration and healing power of the redwoods.
Forever Forest: The Campaign for the Redwoods is making this ambitious vision a reality. With a goal of $120 million, the Campaign has already helped to protect the last of the unprotected old-growth coast redwood and giant sequoia forests, including Alder Creek, Red Hill, Cascade Creek, and Mailliard Ranch, as well as Harold Richardson Redwoods Reserve, where the League is creating the first new old-growth redwood park in a generation. Contributions to the Campaign have also supported Redwoods Rising, the most ambitious redwood forest restoration project ever launched, now in progress within the iconic Redwood National and State Parks. This work is informed by pioneering research—funded by the Campaign—that has illuminated the connections between redwoods, climate change, and wildfires.
With $105 million committed since we launched the Campaign in January 2017, we are on track to raise the remaining $15 million by March 31, 2022—with your help. Campaign Honorary Co-chairs Ralph Eschenbach and Carol Joy Provan have pledged to match all contributions received before the end of 2021 dollar for dollar up to $1 million. This challenge gift is helping to build momentum as we sprint to the finish line next March.
As a Forever Forest Campaign donor, you will help fund strategic acquisitions of unprotected forestlands; research, restoration, and stewardship to bolster the redwood forests' resilience in the face of climate change and high-severity wildfires; parks experiences, outreach, and education programs that benefit all people and the forests we are connected to; and engagement with California tribes, the original and ongoing caretakers of our lands and waters. The comprehensive nature of the Campaign recognizes that all of these elements of our vision for the redwoods are interdependent, and you and the rest of our supporters are the glue that holds them together.
REFLECTIONS ON REALIZING THE VISION
Here, League staff share their perspectives on the groundbreaking work that they lead with support from the Campaign.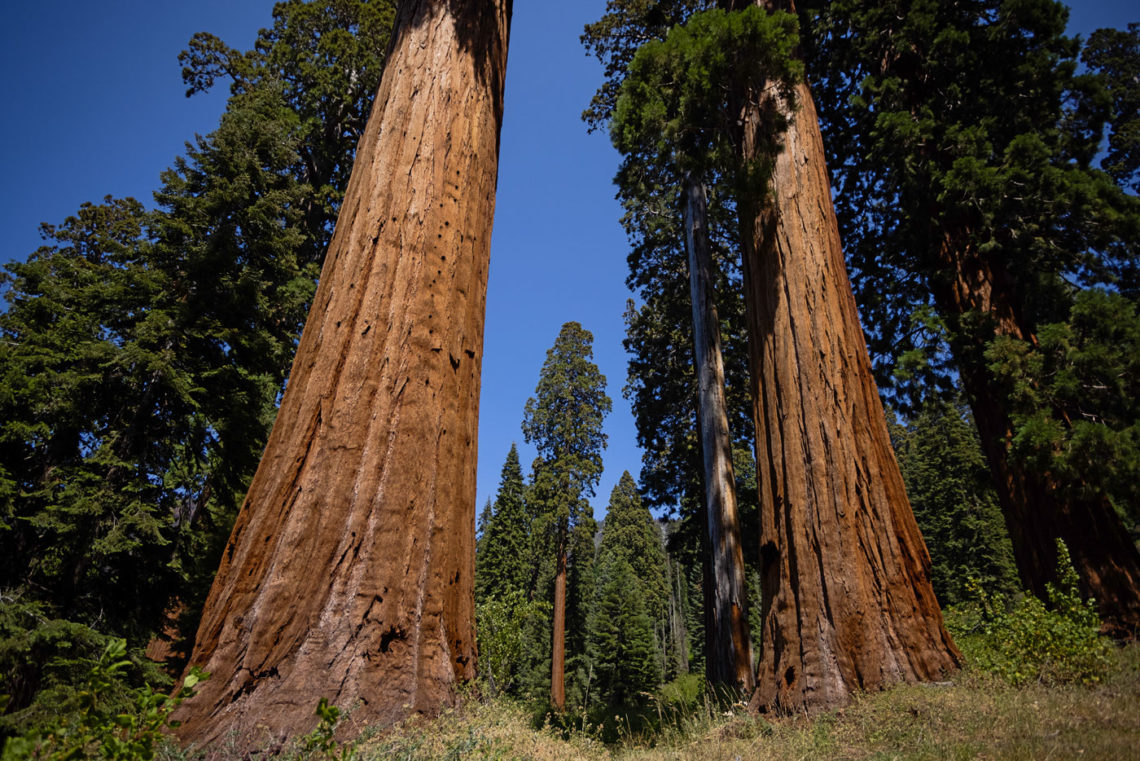 Protecting the forests of the future
"When my family decided to sell my great-grandparents' farm outside of my hometown in Wisconsin, they sold the best portions of it to the city, and it became a huge park with a river boardwalk and miles of trails that benefit the community. This ultimately inspired me to get into land conservation, to mesh environmental protection with economics and sociology. I am excited to be working with my team at the League to build relationships with landowners and pursue thousands of acres of potential acquisitions to substantially shift the balance between commercially harvested land and protected land. Safeguarding these places will bolster the forests' natural wildfire resilience, biodiversity, and a sustainable working and restoration forest economy. As key properties become available in the competitive real estate market, we need to be ready with funding to acquire and permanently protect them from commercial timber harvesting, subdivision, and development. The Forever Forest Campaign gives us the edge we need."
—Becky Bremser, League director of land protection
---
Regenerating degraded landscapes
"In much of the young, previously harvested forests in Redwood National and State Parks, the impacts are so severe that the forest cannot optimally recover on its own. To steward 70,000 acres of forests in this degraded state, the League launched Redwoods Rising in partnership with the National Park Service and California State Parks. The project involves thinning overly dense redwood forest to accelerate the return of mature-forest characteristics, increase carbon storage, and enhance fire resilience. By removing many miles of abandoned logging roads, the collaboration will improve forest and stream structure and function. The planting of thousands of trees and the addition of large wood in streams will further improve stream habitat quality. We're doing this work to buffer and protect the limited old-growth redwood forest of the present, to grow the ancient forest of the future, and to conserve all species that depend on redwood habitat. This complex and critical project is funded by a combination of public funding from our state and federal partners and gifts to the Forever Forest Campaign."
—Laura Lalemand, League forest ecologist
Researching and restoring climate and fire resilience
"As high-severity wildfires and climate change—which many scientists now refer to as climate disruption—impact California's landscapes, coast redwood and giant sequoia forests are part of the solution. The League's research has found that these forests store more carbon per acre than any other forest types in the world. Yet they face unprecedented threats as fire seasons get hotter and longer and ongoing droughts have stressed the trees. The initial estimate is that 10% to 15% of all large, ancient giant sequoia—of all of them throughout their range—perished in the 2020 fires. With the League's acquisition of Alder Creek and Red Hill, 98% of giant sequoia stand in protected lands. We need to actively steward these forests to prepare them for more frequent and intense wildfires and lower the risk of losing more rare, old trees. The Forever Forest Campaign helps fund post-fire research to guide our conservation planning and quantify the impacts of our stewardship. It also prepares us to perform prescribed burns on our held properties and lands where we hold conservation easements, when the conditions are right. We will always live with fire in California, and working with fire, forests, watersheds, and people to build resilience is a good way to move forward."
—Joanna Nelson, League director of science and conservation planning
Reimagining redwoods experiences for all people
"When people experience the magic of the redwoods, it contributes to their well-being in many ways—so not only do they feel connected and inspired to protect the forest, but also our collective wellness and prosperity as a society are elevated. The League helped to establish the state park system nearly a century ago, and we are committed to reimagining redwood parks for a broader, more diverse audience. Through the Forever Forest Campaign, the League has continued to collaborate with our partners to design and build welcoming and inspiring new visitor experiences in destinations such as Redwood National and State Parks, Alder Creek in Giant Sequoia National Monument, and the League-held Harold Richardson Redwoods Reserve. And we are concurrently investing in community outreach and environmental education to inspire lifelong connections to the redwoods."
—Jessica Carter, League director of parks and public engagement
Elevating California tribes as leaders and partners in conservation
"California tribes are essential to protecting, stewarding, and restoring redwood forests and reimagining public access to these places. My conversations with tribal elders and medicine practitioners have helped me to understand the depth of traditional knowledge and spiritual relationships that exist between tribes and the lands they have called home since time immemorial. Building reciprocal partnerships with tribes is critical to achieving our conservation goals and provides an opportunity for Californians of all backgrounds to heal from intergenerational impacts of colonization together. Like all forms of healing, engaging and cultivating relationships with tribes takes time, and it is an important investment in our collective future. Through the Forever Forest Campaign, we have been able to help restore tribal access to traditional lands and consult with tribes on how we can best approach our work in partnership. We will continue to pursue such opportunities for the benefit of all people and the landscapes of which we are a part."
—Paul Ringgold, League chief program officer
---
The League's holistic approach to redwoods conservation is powered by people who have been moved by the greatness of the tallest and most massive trees on Earth. Whether you've come face to face with giants deep in the primeval forests that still exist, felt the despair of seeing logged lands and burned landscapes firsthand, or simply admired the trees' quiet strength and fabled stature from afar, you can be a part of a movement that will span generations. Join us today in support of Forever Forest: The Campaign for the Redwoods, and help us secure the future of our forests.

FOREVER FOREST CAMPAIGN: HELP CLOSE THE $15 MILLION GAP
WHAT
The Forever Forest Campaign will help safeguard the future of the redwoods. Every dollar goes directly into our programs to protect and restore redwood forests, and connect people to California's most iconic landscapes.
PROGRESS
We have raised $105 million and are on track to reach our $120 million goal by March 31, 2022—with your help.
LEARN MORE
Contact Campaign Director Suzanne Moss: smoss@SaveTheRedwoods.org
GIVE
You may send your gift to our address on the back cover of this magazine or give on our secure website: SaveTheRedwoods.org/forever-forest