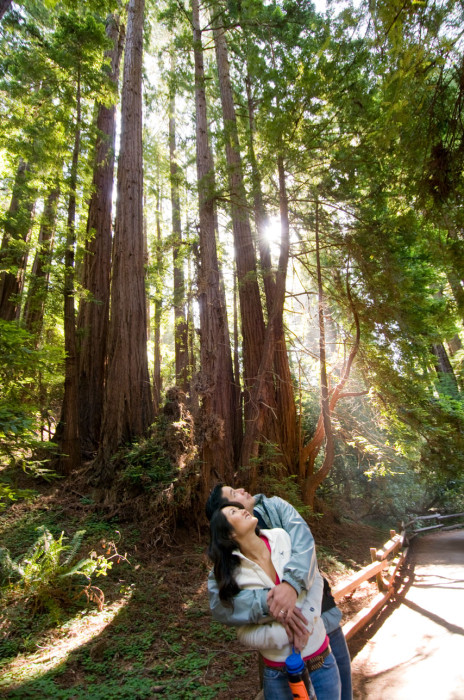 Now that your kids are away at summer camp, it's a perfect opportunity for a quick, romantic getaway to the redwoods. A couple of months ago, my husband and I took a weekend trip to Mendocino County for food, wine, California history and the magnificent, ancient coast redwoods at Montgomery Woods State Natural Reserve. I've been there a few times, but it was a first for my husband. I was super excited to share this wonderful hidden gem with him.
After a 3 1/2-hour drive from our Bay Area suburb through the picturesque back country of Marin and Sonoma counties, we reached the Reserve. We loaded our wine, cheese and fruit into our backpacks and headed into the woods. About 20 minutes up the ridge, we enjoyed refreshments and the fresh air among the redwoods of Grubb grove. We reminded ourselves why we should do this more often with each other. Married for almost six years and together for 11, every new experience still feels like our first date.
Relaxed and rejuvenated, we left the Reserve ready for a romantic evening by the sea. About an hour later we arrived in quaint Mendocino, where we strolled main street to pick up chocolate-covered apples for my parents and a Mendocino T-shirt for my niece. Since we had an hour before dinner, we stopped by the Kelley House Museum to take in the area's history.
Next, we relaxed in our hotel and got dolled up. I think it's cute that we still get dressed up for each other. Feels like we are 21 again (minus the acne and tortured soul). The dinner, the view and the company were phenomenal. It's amazing what a tranquil, intimate setting can do for your relationship. I highly recommend it.
If you have a romantic getaway that you want to share, please let me know!
PS: The chocolate-covered apples never made it home. Sorry mom and dad!
Travel Tip: If you travel early in the week, some places, like restaurants, offer discounts.