Entertainer Made Pleas to Save Trees
Humboldt Redwoods State Park is famous for its superlatives. The park protects the world's largest remaining expanse of ancient coast redwood forest. Its Avenue of the Giants has been called the finest forest drive in the world. In addition, the visitor center houses what is known as the largest single piece of hewn timber in the world and the first recreational vehicle: the Travel Log. Work on the vehicle began in 1917, when vaudeville entertainer Charles Kellogg hollowed out a six-ton redwood log and mounted it on a truck. Inside, he built a kitchen, a folding lavatory, and two beds.
Kellogg, a performer who imitated bird songs, also was a naturalist who became increasingly concerned about the fate of the redwoods he loved. National Public Radio tells the story: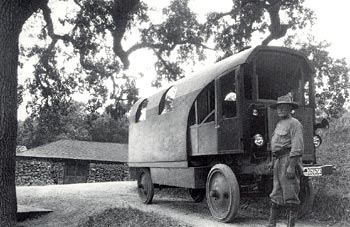 "From 1917-1921, Kellogg took his Travel Log on the road. He drove it across the country four times, coast to coast, bringing word of the redwoods to people who had never heard, let alone imagined, there could be such trees. He spoke of the accelerated logging taking place in the redwood forests, made impassionate pleas for the trees' preservation, and spread the word about a fledgling organization looking for members. It was called the Save the Redwoods League."
The Travel Log has another connection to the League. After Kellogg's death, his friends—League member Bernice Chapman and Helen Hanson—stored the vehicle until donating it to the Humboldt Redwoods Interpretive Association in 1994. Chapman loved the redwoods, and the League has been fortunate to be able to continue her legacy through the generous support of the Chapman Hanson Foundation, created from her estate. The Travel Log found a fitting home in the park, which the League established and protected, acre by acre, over the decades, for all to enjoy.
---
This feature appears in the beautiful printed edition of Redwoods magazine, a showcase of redwoods conservation stories by leading scientists and writers, as well as breathtaking photos, answers to readers' questions, and how you can help the forest.
Join our thousands of members today for only $25, and you'll get future editions of our Redwoods magazine.