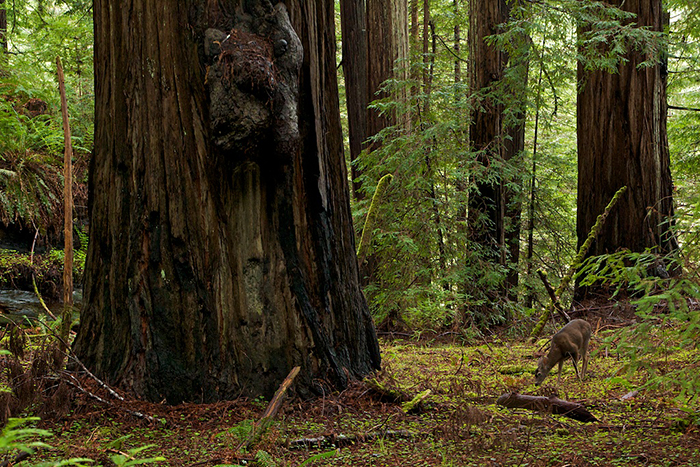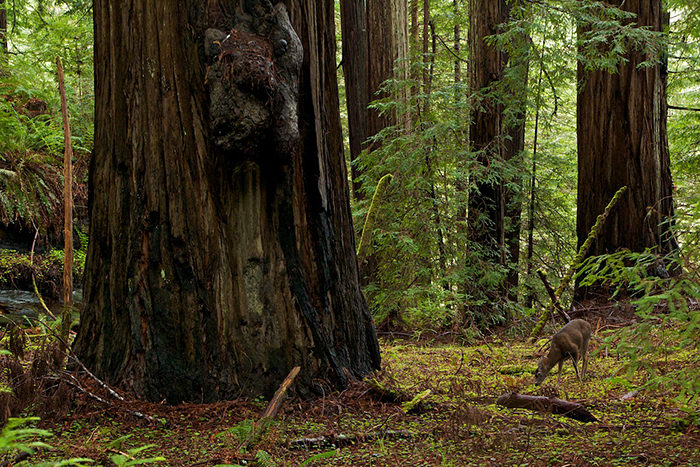 My all-time favorite redwood grove is along the north Bull Creek Flats Trail in Humboldt Redwoods State Park. From San Francisco, drive north on highway 101 for about four hours, and then take the scenic route: the iconic Avenue of the Giants, where towering trees line the road through the park.
This forest inspired League founders to protect the redwoods. Face to face with these trees, it's impossible not to feel the same sense of responsibility to safeguard this ancient forest.
The trail passes through a dense, seemingly endless stand of enormous ancient coast redwoods. I couldn't believe what I saw. The uniformly columnar trees are otherworldly, like a living Parthenon. I had to reach out and feel if a backdrop stood in front of me. The area was so quiet, it felt like the forest was cupping my ears. It was so still, I tiptoed down the trail to avoid puncturing the peace. Even Bull Creek flows by in silence. But Humboldt Redwoods is home for countless wild animals, so keep an ear out for the high-pitched calls of ospreys and bald eagles, and watch for newts and yellow banana slugs underfoot. You may even experience the thrill of glimpsing a river otter or black bear.
Whether you drive through the park or spend days, you'll remember the exhilaration for the rest of your life. Want to discover redwood parks like Humboldt Redwoods? Visit ExploreRedwoods.org today and create your free, customized redwoods trip itinerary!