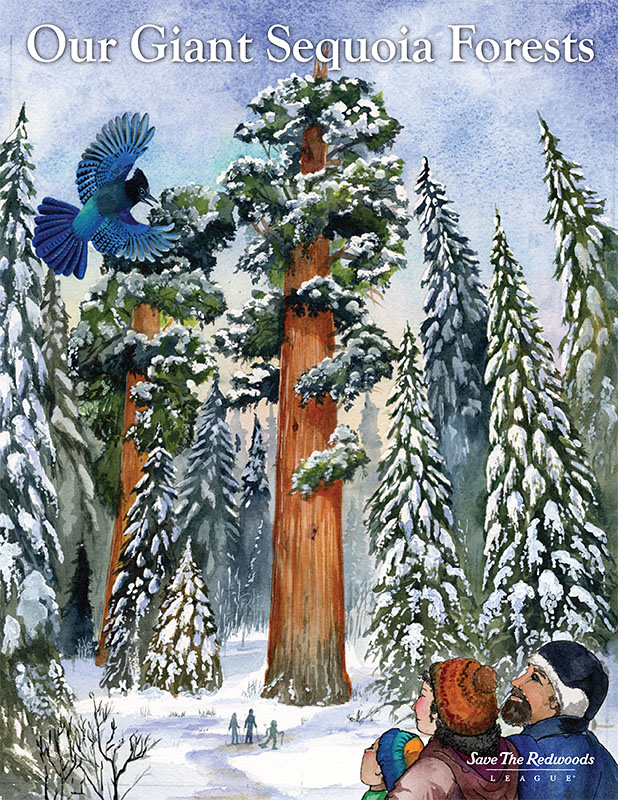 We are excited to unveil our new coast redwood and giant sequoia educational brochures, "Life in the Coast Redwoods" and "Our Giant Sequoia Forests." Save the Redwoods League has been working hard on these educational resources and are eager to share them with you.
Teachers, park staff, informal educators, and families can use these new brochures to share important coast redwood and giant sequoia information with younger audiences. They are designed for ages 9-12, but can be used with younger ages to help with reading. The brochures have interactive activities, superhero challenges, and activities to do at home with family members or at various redwood park locations.
To accompany the brochures, we developed a teacher's guide for the "Life in the Coast Redwoods" brochure with answers to the superhero questions and extension activities. The teacher's guide for "Our Giant Sequoia Forests" will soon follow. Each of the activities in the guides adhere to California's current education standards.
For all of you map lovers out there, we also have a beautiful coast redwood and giant sequoia map poster. The poster shows the range of both trees and compares the tallest trees in the world with the biggest.
And if you still want more, check out our new educational videos. You can learn about banana slugs, red-bellied newts, epiphytes, and ferns.
Visit our Redwoods Learning Center to download copies of the material or contact the Education and Interpretation Manger at education@savetheredwoods.org to receive hard copies in bulk.
We hope these and other educational resources available on our website will help inform and connect youth to these amazing giants.