2022 was another one for the books
As 2022 draws to a close, we are reflecting on another extraordinary year at Save the Redwoods League. We are so grateful that we get to do the good work of protecting and restoring redwood forests and connecting people with these incredible places—and it would not be possible without our amazing partners, members, and supporters. Here's a rundown of some of our biggest highlights from this year. 
Tc'ih-Léh-Dûñ
We kicked off this year with the announcement of a historic project. In partnership with the InterTribal Sinkyone Wilderness Council, the League returned Indigenous guardianship to a forest called Tc'ih-Léh-Dûñ. We donated the land to the Sinkyone Council—a consortium of 10 Northern California tribal nations with cultural connections to lands and waters in Sinkyone and neighboring tribal territories—and they granted us a conservation easement so that we could continue to work together to protect and restore the land for all time. The Council restored the original place name, which means Fish Run Place in the Sinkyone language. 
Save the Sequoias
The League continued to play an important role in the urgent work to protect and restore resilience of the giant sequoia forests in the face of unprecedented high-severity fires and climate change. After joining the Giant Sequoia Lands Coalition last year, we have been supporting communications, including the release of a policy brief, around the threats and the action needed. Together with the Tule River Tribe, National Park Service, the USDA Forest Service, and local landowners, the League joined a bipartisan congressional roundtable with the House Natural Resources Committee, ultimately catalyzing the Save Our Sequoias Act. Meanwhile, we have also been advancing fuels treatments at our Alder Creek and Red Hill properties, and supporting similar work on partner lands such as prescribed burns in the north grove of Calaveras Big Trees State Park. 
Forever Forest Campaign
We wrapped our incredible Forever Forest Campaign this year, exceeding our $120 million goal and raising $143 million over five years! More than 50,000 individuals and organizations from around the world contributed to the campaign to help us protect and restore coast redwood and giant sequoia forests and connect people with these inspiring places. The campaign enabled us to protect 20,500 acres, restore thousands of acres of historically logged forests in Redwood National and State Parks, develop wonderful redwoods experiences for all people, and so much more. 
RNSP Trails Gateway and Prairie Creek restoration
The League, California Trout, and local partners began a second year of construction on the Redwood National and State Parks Trails Gateway & Prairie Creek Restoration project at the League's Orick Mill site in Humboldt County. Yurok Tribe Construction Corporation worked to remove 10 acres of asphalt and extensive non-native vegetation and excavate a new section of creek channel through what was previously a disconnected pasture. It has been inspiring to see the land healing at the hands of the Yurok construction crew, staffed entirely by Yurok tribal members, in the heart of their ancestral territory. 
Disabled Hiker's Guide to the Redwoods
We had the great privilege of working with Syren Nagakyrie, founder of the nonprofit Disabled Hikers, on the Disabled Hiker's Guide to the Redwoods. Syren visited and assessed the accessibility of some of California's most beautiful redwood parks: Redwood National and State Parks, Humboldt Redwoods State Park, Hendy Woods State Park, Samuel P. Taylor State Park, and Henry Cowell Redwoods State Park. They also researched accessibility for many other coast redwood and giant sequoia parks and provided detailed information for visitors who have a range of disabilities, including folks who have mobility disabilities, have aphasia, or are Blind and/or Deaf. 
I'll Go If You Go 
Our podcast I'll Go If You Go returned for a second season, this time with multimedia science writer and photographer Emily Harwitz as the host. Emily ventured into the forest with folks doing fun, traditional, and nontraditional things in the redwoods—from mushroom foraging with Mazu Mushrooms to paddling on the Klamath River in a traditional redwood canoe with a Yurok guide to skateboarding with friends from the nonprofit Skate Like a Girl. If you haven't listened yet, catch up on seasons 1 and 2—season 3 is coming soon! 
California State Parks Week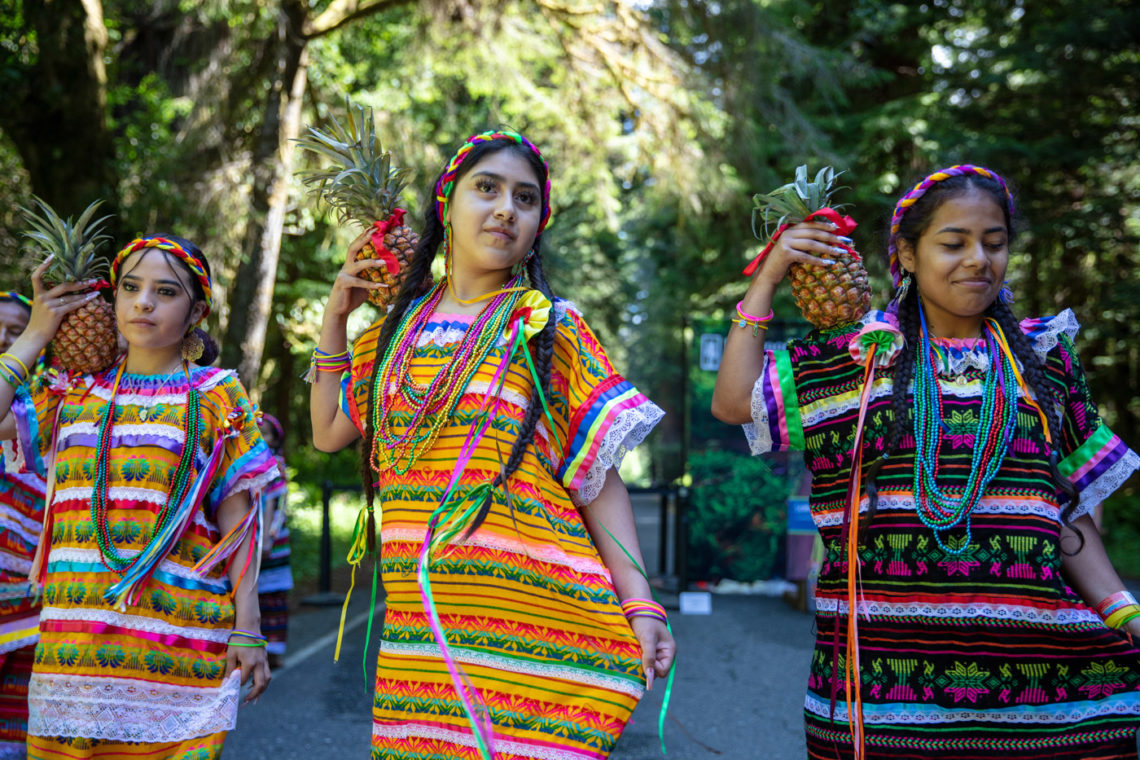 The League partnered with California State Parks, Parks California, and California State Parks Foundation to offer the inaugural California State Parks Week. This annual event celebrates the lands that have been protected by and for all of us and encourages people to explore the diversity and natural and cultural history in our iconic state parks. To close out the week, we hosted a spectacular event with our partners in Prairie Creek Redwoods State Park: Summer in the Redwoods! 
Connecting people with the redwoods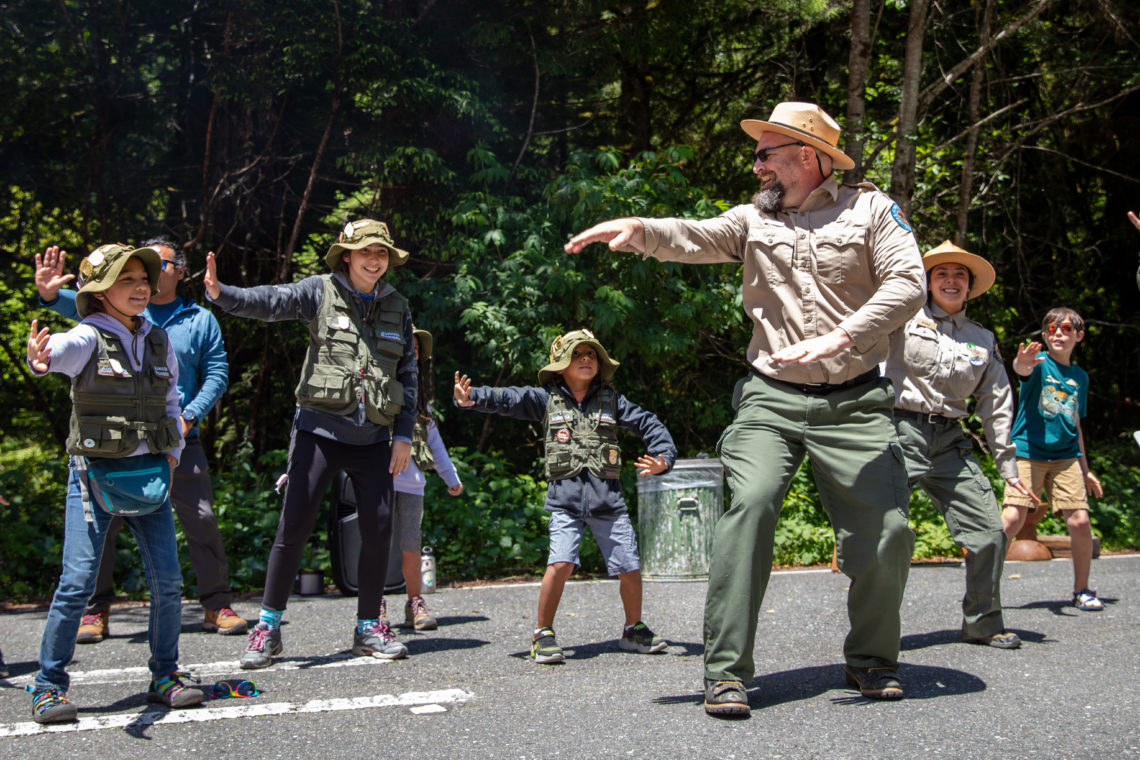 We were excited to get back into the redwoods with our community members through our parks and public engagement programs. The League launched Redwood Rides, providing free bus rides to redwood parks for organizations serving Black, Indigenous, and people of color, as well as low-income communities. This addresses the largest barrier preventing underrepresented communities from visiting their local redwood parks: lack of transportation. We also hosted field trips for K-12 students in California to explore their watersheds and local redwood parks.  
Redwoods Rising
The League and our partners had another successful operating season on Redwoods Rising. Crews worked in the Greater Mill Creek and Greater Prairie Creek project areas to remove old logging roads and open up dark, dense, unhealthy second-growth forests. Five apprentices helped gather data in activities ranging from stream channel surveys to mapping old overgrown logging roads. Three watershed apprentices and two roads apprentices worked alongside Redwood National Park employees, as well. Redwoods Rising continues to be a groundbreaking model for landscape-scale restoration. 
Grove of Titans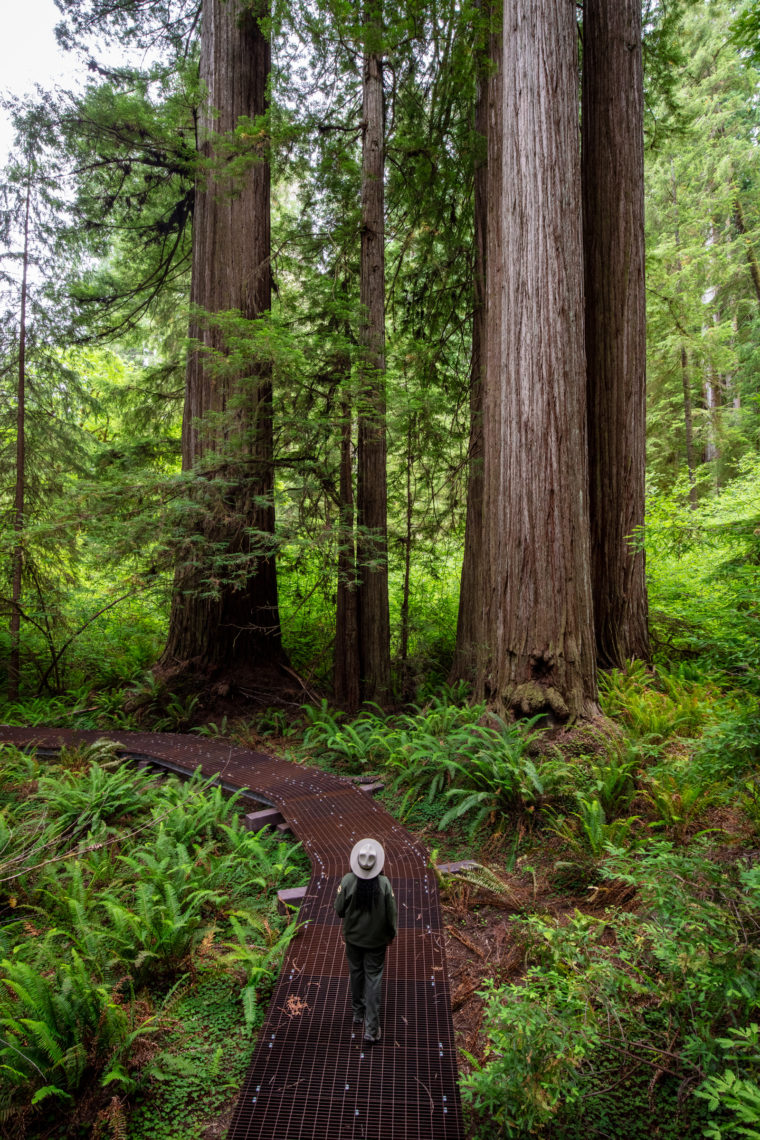 After soft launching last year, the famed Grove of Titans and the Mill Creek Trail in Jedediah Smith Redwoods State Park fully opened in May. The League joined a ribbon cutting with our partners from California State Parks, Tolowa Dee-ni' Nation, Redwood Parks Conservancy, and National Park Service, along with local community members. The new elevated boardwalk through the Grove of Titans features interpretive signage and exhibits, complete with redwood forest illustrations and hands-on features to educate visitors about the habitat and safe trail use. Interpretation was developed in consultation with the Tolowa Dee-ni' Nation to illuminate the Indigenous history of the area and present-day relationships that Tolowa people have sustained with these lands for generations.  
Science grants
This year the League awarded $129,595 in grant funding to eight research projects in coast redwood and giant sequoia forests. These projects explore the effects of wildfires on redwood and giant sequoia ecosystems, the effects of prescribed burning on wildfire behavior and impacts, the genetics of redwood forest salamanders, and more. This also was our second year offering starter grants to graduate and undergraduate students of color interested in redwood forest research, providing introductory opportunities to members of underrepresented communities to engage in redwoods research and encouraging a diversity of perspectives and approaches. 
Redwood interpretation training
The League hosted a three-day interpretation training, during which park interpreters gathered in the Santa Cruz Mountains to engage with some thought-provoking presentations and workshops. We delivered presentations on our redwoods interpretive master plan, inclusive storytelling, and redwoods restoration and research. Chairman Val Lopez from the Amah Mutsun Tribal Band spoke about elevating Indigenous voices, and other presenters covered fire ecology, climate communication, and more. 
San Vicente restoration and public access
The League has had a decade-long partnership with Peninsula Open Space Trust (POST) and Sempervirens Fund to protect the working forest of San Vicente Redwoods in the Santa Cruz Mountains. POST and Sempervirens own and manage the land, while the League holds the conservation easement. In January, we and our partners mobilized to plant 23,000 seedlings to reforest San Vicente, which was impacted by the CZU Lightning Complex fires. Our goal has always been for the public to enjoy this special place. To that end, Land Trust of Santa Cruz County began construction in April on the first phase of a 38-mile multi-use trail system. In December, the initial 7.3-mile trail opened for hikers, mountain bikers, and equestrians. Register to visit San Vicente Redwoods here. 
Take Me to the Trees
The League community had a blast at our annual celebration, Take Me to the Trees! A live performance by Fantastic Negrito got the crowd movin' and groovin'. The event helped us raise more than $700,000 to protect Montgomery Woods State Nature Reserve by acquiring key properties to expand the park and safeguard critical wildlife corridors, restore the old-growth grove, and connect people with this hidden gem by improving park infrastructure and enhancing public outreach.   
Since 1947, the League protected nearly all of Montgomery Woods State Natural Reserve. This year we expanded our vision for the reserve and the surrounding region. After acquiring and protecting the adjacent 453-acre Atkins Place property in August, we are now raising $1 million toward the purchase of a $14 million conservation easement on the adjacent sustainably managed working forest of the 3,862-acre Weger Ranch and $2 million for a partnership with California State Parks to redesign the visitor experience at Montgomery Woods. The acquisitions will protect wildlife habitat within the Big River watershed and provide buffers to the old-growth forest, while creating opportunities for expanded public access to Montgomery Woods. The Montgomery Woods Initiative represents the League's big vision of landscape-scale forest protection and restoration and inspirational redwood park experiences for all. 
Huge thanks to everyone who has been a part of our community this year! We're looking forward to what's next in 2023.