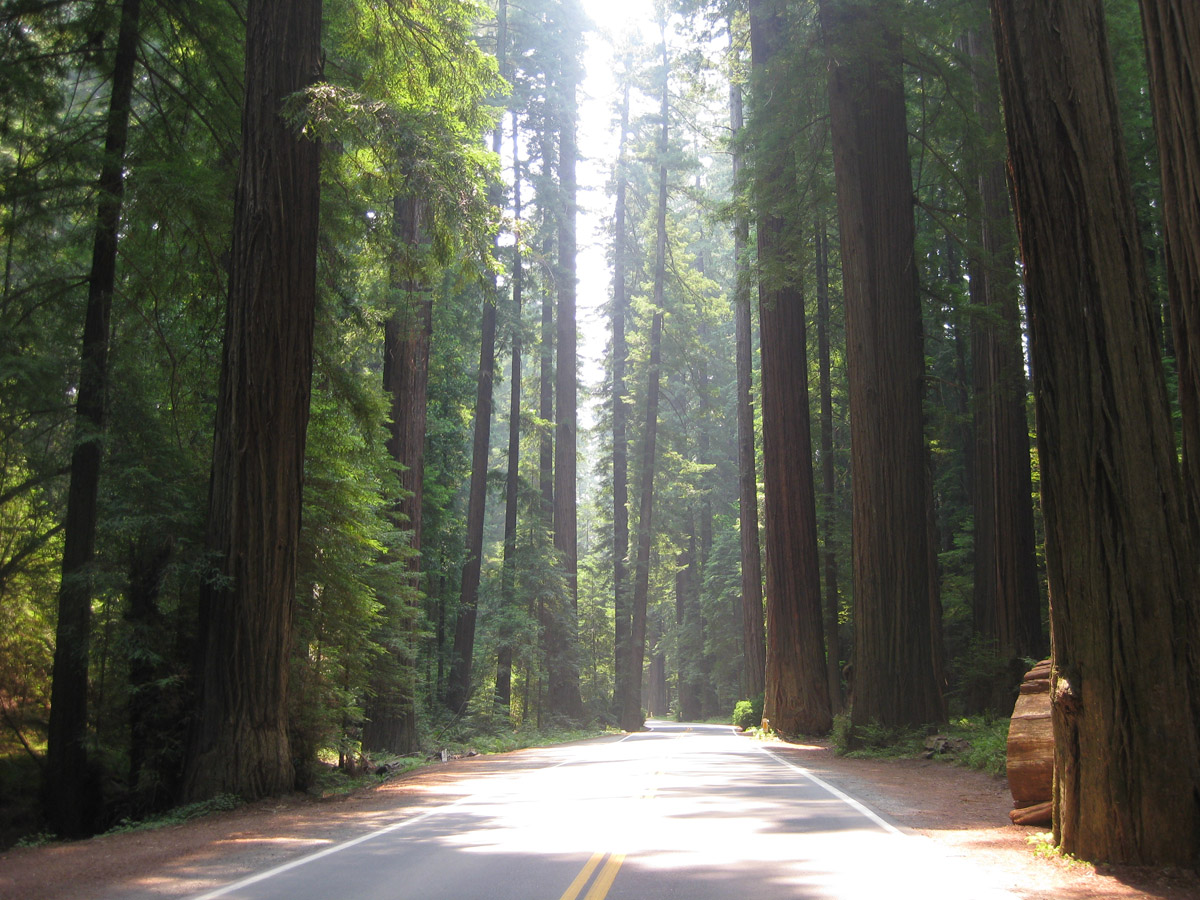 My husband and I are constantly seeking new experiences to enjoy together, so we decided to take a long weekend to explore Eureka, in northern California. Even though we were in the midst of a weeks-long deluge with dams straining against their impediments, we were not to be deterred. We were even more determined when we learned that Eureka has a huge number of Victorian homes, which happen to be another one of our fascinations. When we mentioned to one of our friends that we were going to be exploring the redwoods and the Victorians in the Eureka area, she told us that we couldn't miss the Avenue of the Giants or the Carson Mansion.
The Avenue of the Giants was named for the amazing, gargantuan coast redwoods found en route to Eureka within Humboldt Redwoods State Park. Initially, the Avenue was part of U.S. Route 101 until a bypass was completed in 1960, which was designated as California Hwy. 254. The Avenue now follows Hwy. 254 for more than 30 miles and meanders along the nearby Eel River. It offers an extraordinary perspective of the forest even from the car. The redwoods line the roadway so compactly that they are nearly marching down the road itself in some areas. It is, in fact, a wonder that the highway department has somehow managed to keep them from actually consuming the road in places. Mother Nature does have a way of taking back what is hers if left to her own devices.
We accessed the Avenue from the south, near Garberville, and followed it for most of its length. Even in the soggy, somewhat misty conditions, it was a truly enjoyable drive. We got out to explore a bit, and among the giant trees and monstrous ferns, I could almost imagine giant species of fauna lurking just beyond our sightline. I experience this transcendence of time whenever I find myself within a forest, and it never fails to cause my heart to race a bit.
We knew that we were in for a unique experience as we were driving because there were numerous picnic sites and signs for attractions along the way, indicating there was much to see. I was reminded of old television ads that I saw as a child of Dad loading all of the kids into the back of a station wagon along with a big, hairy dog. Mom would smile from the front seat as she refreshed her lipstick before heading out for the open road. Of course, they never showed the older sister whacking the younger one over the head with a doll while Fido ate the egg salad sandwiches out of the picnic basket in the rear of the car, but back to the trip at hand.
One of the attractions we passed was the "famous" One-Log House. This extraordinary building was created by hollowing out a single tree in 1946. It is thought that the tree was about 2,100 years old at the time that it was felled, and it was estimated to have weighed 42 tons just for that particular section of the tree. The resulting home is 7 ft. high and 32 ft. long, and it consists of a living room, dining room, and a bedroom.
Anyone who is familiar with redwood forests is probably aware that there are some trees that are named for various characteristics and several trees within the Avenue region are no different. The Immortal tree is believed to be nearly 1,000 years old and 250 ft. tall. This is its current height but is thought to have been significantly taller prior to acts of Mother Nature such as the flood of 1964 and a lightning strike that destroyed the top 45 ft. of the tree. Having survived such natural disasters is how the Immortal tree has earned its name. If you would like to see this resilient giant, a nearby parking area and gift shop are easy to locate in the northern part of the Avenue.
When considering points of interest, don't overlook Founder's Grove, which is located near Weott. This grove offers a few very large trees and an easy half-mile hike. It also contains the Founder's Tree, which is nearly 350 ft. tall, as well as the remains of the Dyerville Giant. Sadly, the Giant met its demise the same way most redwoods do when left to nature; all 370 feet of it came crashing down in 1991. If you would like more information about this trail, there are pamphlets located at the trailhead.
For those who like to surround themselves with nature while engaging in physical fitness activities, the Avenue not only offers roadside attractions and camping, but there is also the Avenue of the Giants marathon (external link), held every year beginning in 1972. According to Runner's World Magazine, this is one of the most beautiful marathon courses in the world. It actually offers three different types of marathons: the regular marathon, the half marathon, and a 10K run.
When we got to Eureka, we were a little disappointed, but only because it was a holiday and most things were closed. We were certainly not disappointed by the town, especially Old Town where most of the Victorian homes are located. Like typical tourists, there was a lot of, "Oh, honey, look at that one," bandied about the car.
We were intrigued by the tales of the Carson Mansion, which is one of the most well-known Victorian homes in the United States. There simply are no words to fully explain its grandeur. Wikipedia describes it as an American Style Queen Anne (Victorian). (external link) I am sure that makes sense to some; I just call it breathtaking.
Although it's not open to the public, the home was originally owned by William Carson, a 19th-century lumber baron. The castle-like house was built in the mid-1880s, and it is encased in redwood lumber from that era. Although it is a sight unlike any other, it still leaves me sad as it represents the destruction of so many of the giants that will never return. It does, however, act as a reminder of what has been lost and how important it is that we continue our quest to protect our magnificent friends.
This trek to Eureka through the Avenue of the Giants showed us that conditions don't always have to be ideal to enjoy the wonders of a redwood forest. In fact, even on a scenic road trip, you can have a happy redwood adventure along the way.
Discover a redwood forest near you using the League's interactive park map or family guides to the coast redwoods and giant sequoia.