Linking people to the peace and beauty of the California redwoods through a network of world-class parks and protected areas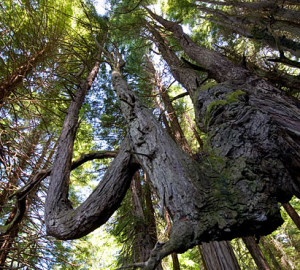 The Lost Coast is one of the most spectacular wilderness landscapes in the continental United States: a 100-mile stretch of bluffs, long, empty beaches and lush forests reaching down to a pristine sea rich with marine life. The League and its collaborators dedicated the Peter Douglas Trail on our Shady Dell property, extending the southern terminus of the Lost Coast Trail. Since its opening, this 2.3-mile trail has logged more than 2,000 visitors.
The second year of our Green Friday day-after-Thanksgiving event was a smashing success. About 35,000 people used free passes offered by the League and California State Parks Foundation to visit 116 California state parks on November 25. We also produced our inaugural Discover California Redwood Parks brochure, featuring 93 local, state and national parks. This compelling and comprehensive brochure is available at parks and visitor centers throughout the state.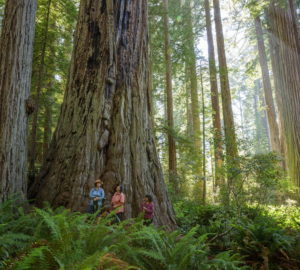 Visitor Center Design Takes Shape
We are making great progress in leading construction of the new Gateway Visitor Center for Redwood National and State Parks, home of the world's tallest trees. The schematic design phase — the planning that addresses the basic scope of a project, including the relationship between various buildings and the landscape — is now largely accomplished. Pending a future fundraising effort, the completed center on our Orick Mill Site will stand as a dynamic, interactive hub connecting the public with the parks, inspiring passion for and engagement with the redwood forest as never before.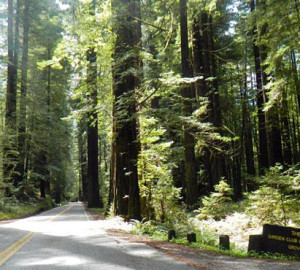 Advancing California State Parks Joint Projects
The League is working with the newly formed California State Parks Partnerships Office to expedite progress on our many joint projects that will restore our collective connection to our spectacular redwood parks. Through these projects, we are creating world-class park facilities and experiences that are worthy of these global treasures and that inspire visitors from all walks of life. Our many projects in progress include these:
Major Steps for Trail Restoration, Pfeiffer Big Sur State Park
Reaching a major milestone, we raised the $1 million needed to restore the popular Pfeiffer Falls Trail after it was destroyed by a 2008 wildfire. Despite floods and a 2016 wildfire, the California Conservation Corps (CCC) built and restored 300 feet of this beautiful trail through the redwoods. This work builds on previous accomplishments by League, CCC, California State Parks and contractors who reconstructed the trail's lower section and added interpretive signage. We estimate that the team will complete the entire new 1-mile trail and construction of a 70-foot bridge by early 2019.
Transforming Big Basin Museum
In Big Basin Redwoods State Park, we are helping to renovate the Big Basin Nature Museum & Research Center to create an immersive experience that turns spectators into active participants in conservation.
Welcoming Visitors to a Magnificent Grove
In Humboldt Redwoods State Park, our goal by spring 2018 is to complete a new, wheelchair-accessible staging and picnic area for visitors exploring The Garden Club of America Grove, where we restored part of the River Trail earlier. Learn about the grove.
With Land Trust of Santa Cruz County, we planned public recreation in the vast and beautiful San Vicente Redwoods property in the Santa Cruz Mountains. Our goal is to construct and open hiking, biking and horseback riding trails to the public by 2018.
Our Explore Your Watershed, Redwood Phenology, and Redwoods and Climate Change programs brought more than 1,700 San Francisco Bay Area students to the redwood forest. Kids also learned about the redwood and giant sequoia forests using our free educational booklets. These programs provide students with a solid grounding in conservation science and forest ecology, and provide meaningful — and often long-lasting — connections to the outdoors. Also in the San Francisco Bay Area, our education grants supported free field trips to the redwood forest for 5,600 elementary, junior high, high school and college students. Students learned about a variety of redwood forest topics, from ecology to restoration.