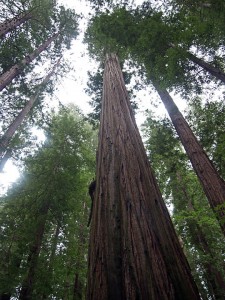 Images, encounters, and lessons in Humboldt Redwoods State Park on a grey, dry winter Saturday – March 2, 2013:
Bolling Grove, the League's first memorial grove of redwoods.  Stop #2 on the Avenue of the Giants auto tour.  Paid respects at the plaque commemorating Colonel Raynal C. Bolling, the first U.S. high-ranking officer killed in World War 1.  The 1921 photo of the dedication ceremony includes Arthur E. Connick, a League founder and future League Board president.  It also includes Connick's 3-year-old son Robert.  Robert later became a professor of chemistry at UC Berkeley and remains an Honorary Councilor of the League.  Two of Arthur's granddaughters, Sarah Connick and Peggy Coe Light, follow the family tradition of donating expertise, time, and financial support in their roles as League Directors; a grandson, Barry Connick Howard, is a League Councilor and Chairperson of the League's Education Committee.
Founder's Grove, dedicated to the League's Founders who refused to allow the wholesale destruction of the redwood forest to continue.  We were munching lunch, facing the Dyerville Giant, a 200-year-old, 362-foot giant redwood that fell in a storm in March 1991.  We chatted with a voluble Vietnam War veteran enjoying a walk with his service dog.  He lives nearby and stopped to advise us to take one of his favorite hikes.  He thanked the League for the fine maps and other interpretive information we provide.  Then, after a pause and with emotion in his voice, he thanked the League for preserving the redwood forest for its power to nurture and heal damaged soldiers and others.
Our veteran friend then merged into a large group of some 30 hikers enjoying the half- mile nature trail.  In addition to the iconic redwoods, when we reached the parking lot, we discovered that the large group also favored another iconic species – classic Porsche autos.  The club was enjoying a dry winter day – with the tops down – tootling around the redwood forest in their classy cars.
Go visit the redwoods!  It is about the forest, but not only the forest.  Tradition.  History. Healing.  The entire human experience alongside of the experience of nature awaits you.
How has the redwood forest healed you? Leave a comment and tell us about your favorite memories in the redwoods.