Plants
Wildlife
Restoration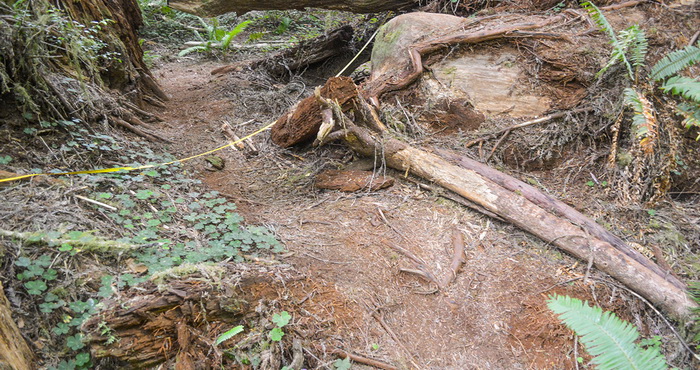 And now, because of internet and mobile technology, the locations of more and more of the tallest redwoods are becoming public knowledge, drawing more people to these giants. This often leads to people blazing their own trails either because the officially designated trail does not provide close access, or because there is no official trail to a specific tree or grove. These unofficial trails are called social trails. So, just how great is the impact of these unofficial trails? Learn more about this research.
0 comments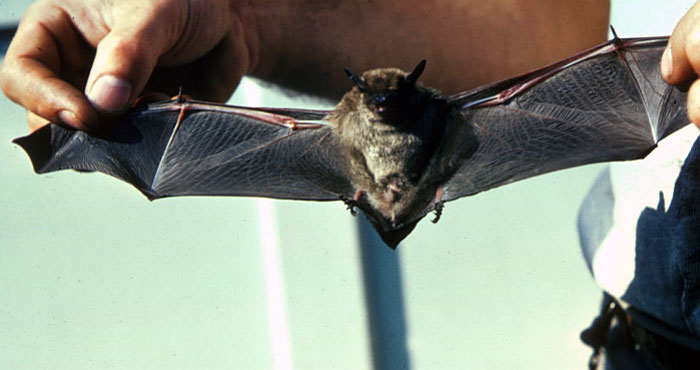 Prior to this study, little was known about the bat community in Yosemite's three giant sequoia groves and virtually nothing was known about how bats use the canopy in any of the Parks' forests. Dr. Elizabeth Pierson, Dr. William Rainey, and Leslie Chow carried out major research to study bat roosting behavior in fire-scarred hollows at the base of sequoia trees, bat feeding behavior in association with a variety of habitats, and bat activity in the giant sequoia canopy. In addition, they combined observations from this study and others to describe the natural history of Yosemite's 18 bat species. Learn more about this research.
0 comments
Researchers believe that fires burned through most redwood forests every six to twenty-five years; in other words, it was a normal occurrence. What is not normal, is the lack of wildfires in the redwood forest.
0 comments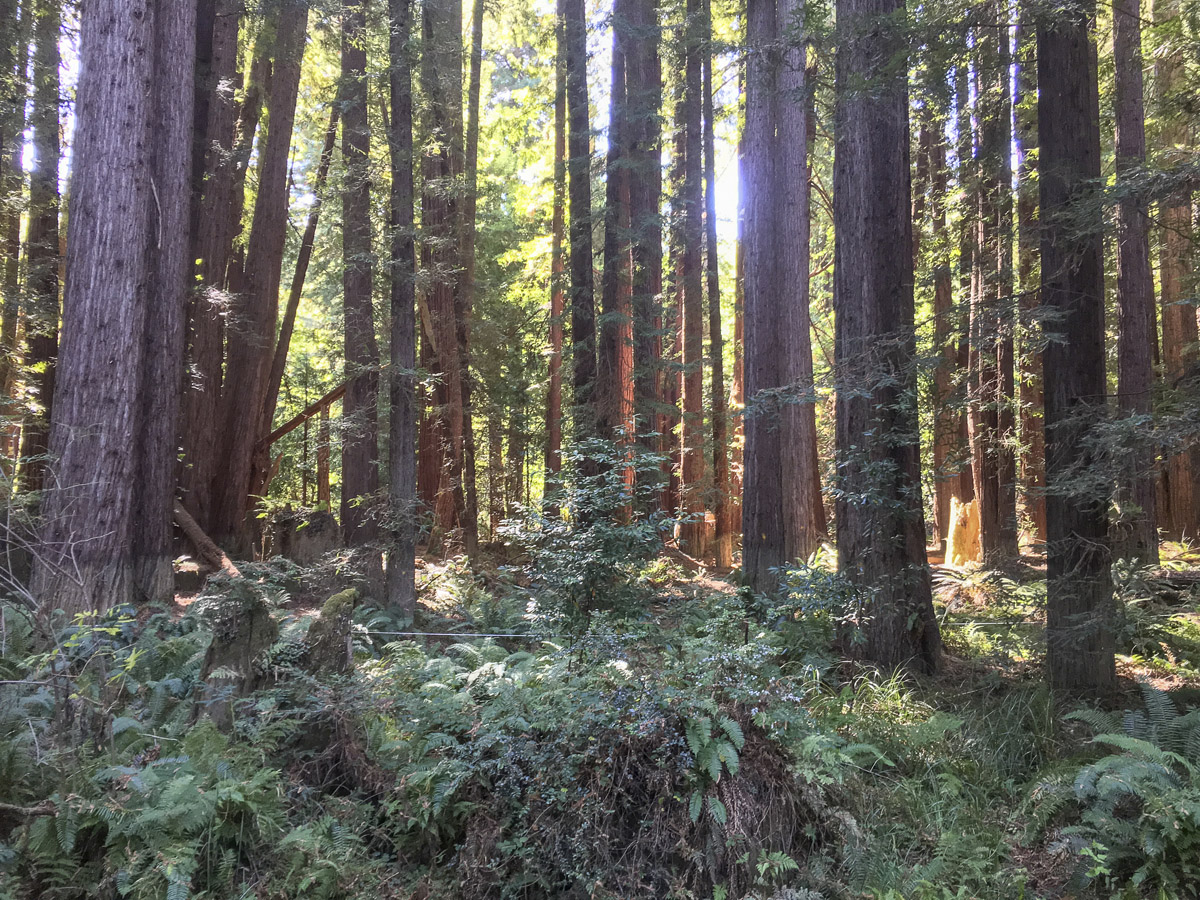 For the sake of redwoods conservation, it's crucial to understand the patterns of natural recovery in second-growth forests. Researchers at San Jose State University wondered how long it takes for a forest to truly recover after clear-cutting, and decided to approach the question by comparing forests in different age classes.
0 comments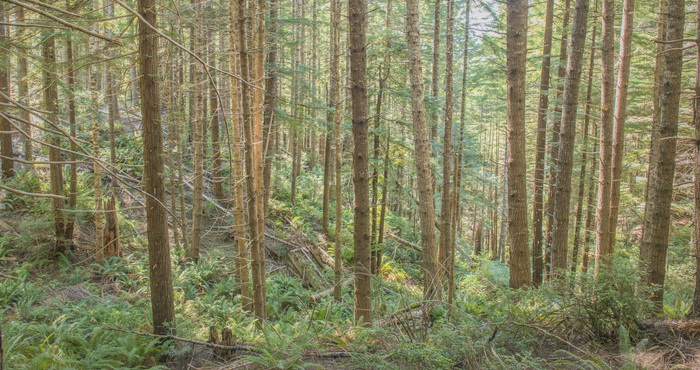 Humboldt State University and California State Parks research studies new approaches to variable-density thinning across the entire Mill Creek property. Learn more about this research.
0 comments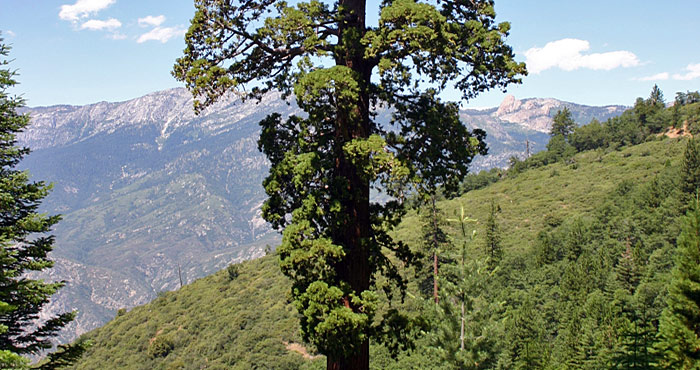 Being dwarfed by Earth's most massive tree, the giant sequoia (aka "Sierra redwood"), fills you with wonder. It's hard to believe that a living thing can be so enormous and old. It may be alarming to see these forests on fire, but research funded by your gifts shows that disturbances such as these actually are good for giant sequoias. Learn more about this research.
0 comments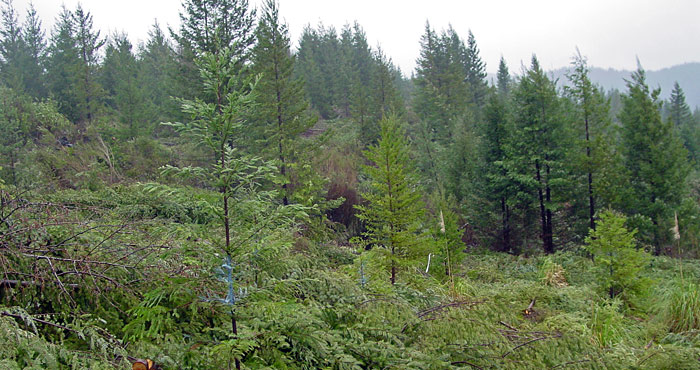 For more than half a century, the Mill Creek region in Northern California produced lumber. After clear-cutting, too many seeds were planted, producing a forest in which too many young trees competed for light, water and other resources. Now, thanks to Save the Redwoods League, Mill Creek is protected as part of Del Norte Coast Redwoods State Park and is becoming a laboratory for redwood forest restoration. Learn more about this research.
0 comments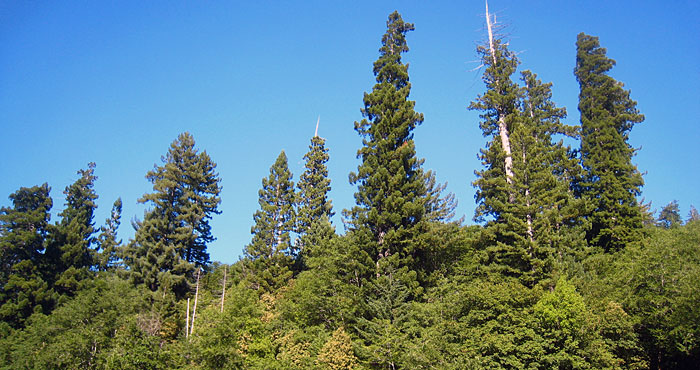 If you want to restore a logged-over redwood forest, how do you decide what should be there? In the past, land managers looked at the mix of species in nearby protected areas. But no one knew for sure whether they represented typical redwood forests—or just the ones with the most interesting or abundant redwoods. Learn more about this research.
0 comments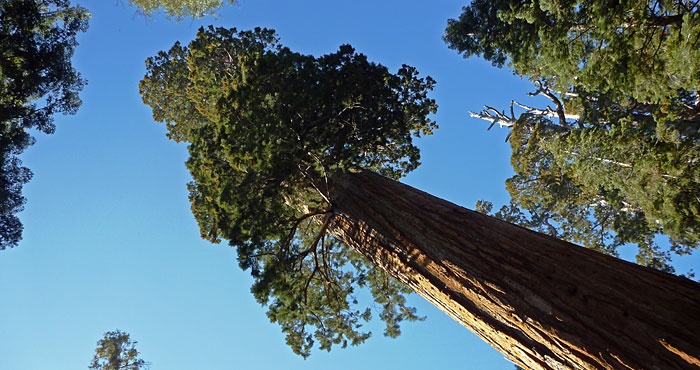 It seems unfathomable that the tiny seedlings Rob York sowed among ash piles in a clearing at Whitaker's Forest could someday grow to be among the largest creatures on earth. Yet these green specks grew into giant sequoias two years after seeds were strewn in canopy gaps. This species of titan tree has stagnated in regeneration efforts for nearly a century. York, along with his graduate advisor, John Battles, is working on unlocking the secrets to growing new giants. Learn more about this research.
0 comments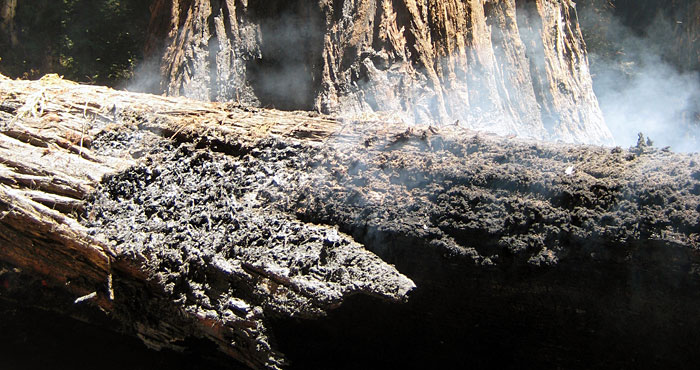 For years, Steve Norman had been told that the humid forests of coastal Northern California must be too wet to burn. Scientists who research fire acknowledge its power as a tool for reshaping the landscape, but some areas were considered nearly immune to fire. This assumption meant that the damp forests of Del Norte Coast Redwoods State Park remained a blank file in the coastal forest fire records. Learn more about this research.
0 comments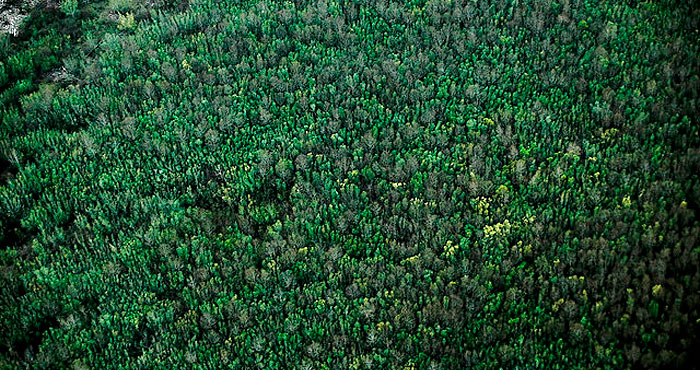 Old-growth redwood forests are prized for their biological and aesthetic riches. If you're a land manager trying to restore lands where redwoods have been logged, the old-growth forest is the ideal to which you aspire. But how do you move toward old-growth characteristics most efficiently? Learn more about this research.
0 comments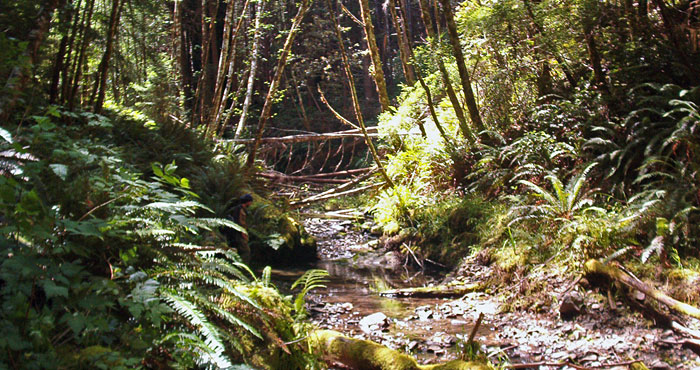 Upland forests in Redwood National Park have been studied extensively. But until a few years ago, less was known about streamside, or "riparian," forests, which benefit the park's salmon habitat by providing shade, erosion control and woody debris in the streams. So Humboldt State University graduate student Emily King Teraoka decided to compare two of the park's riparian forests: one along Lost Man Creek, which had been clearcut between 1954 and 1962; and one along Little Lost Man Creek, which was mostly untouched. Learn more about this research.
0 comments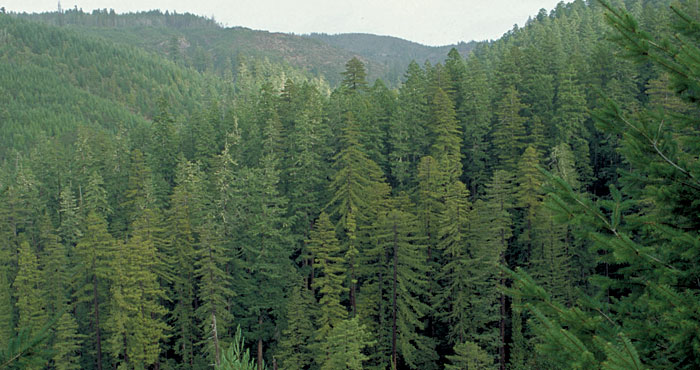 Dr. Christopher Keyes and Andrew Chittick have found that thinning—removing select trees in a second-growth coast redwood forest—speeds up the forest's development of old-growth characteristics, which include tall and bulky trees, small gaps in the canopy through which sunlight can penetrate, trees of varying heights, thicker tree branches, understory shrubs and ferns, and healthy young saplings. Learn more about this research.
0 comments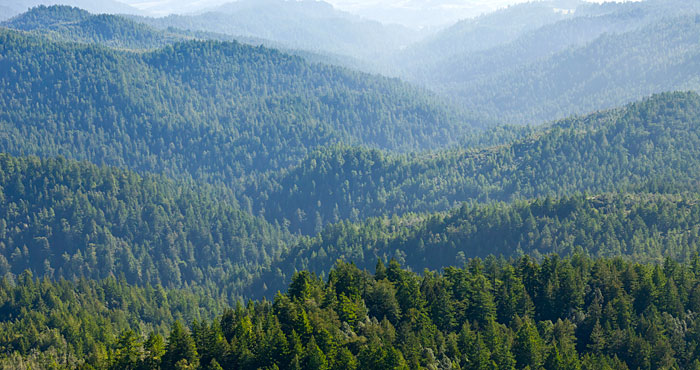 Dr. Sarah Marvin, professor of Geography at the University of Oregon, has set out to understand how the shape of the land and its use by owners reflect the probability of a privately owned coast redwood forest being protected. The two questions she has asked are: "Are privately owned forests more likely to be protected if they are on bigger parcels?" and "Do traditional, rural land uses as opposed to traditional, residential land uses promote forest preservation?" Answers to these questions might help predict the likelihood of future, private redwood forest protection and—of logged forests—regeneration. Learn more about this research.
0 comments
Dr. William Russell found that the negative effects of timber harvesting in riparian coast redwood forests lessen with respect to two conditions; (1) longevity of the forest and (2) wider no-cut buffer zones. Longer-lived forests and forests with wider buffer zones surrounding rivers show less harm from logging. Riparian buffers are strips of forest left on either side of rivers after logging that control the amount of sediment and nutrients filtering into the water. In recently harvested forests and ones with thin or no buffers, young tree crowns crowd the canopies, letting through less sunlight, deciduous hardwoods thrive, extra dead wood litters the forest floors, and exotic and disturbance-prone understory species invade. These alterations, in addition to affecting the physical structure of rivers, down the line cause higher levels of organic material to filter into them. Learn more about this research.
0 comments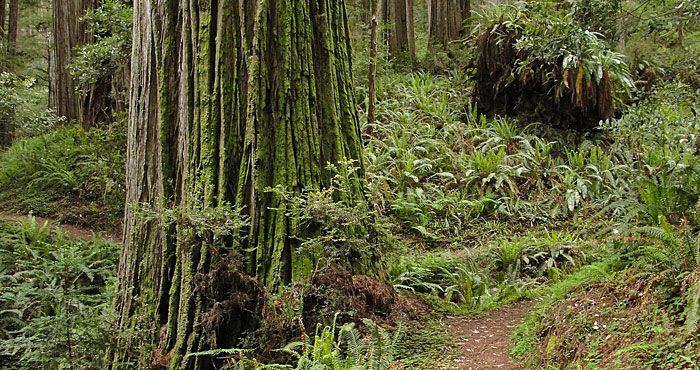 Dr. William Russell, Dr. Joe McBride, and Ky Carnell have found that old-growth coast redwood forest reserves with areas larger in proportion to the length of their perimeters suffer fewer negative effects from exposed edges. Learn more about this research.
0 comments